Little girl gets stuck in dark room for 5 days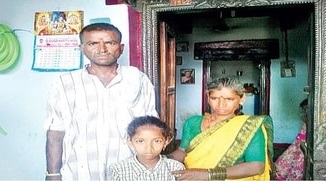 Not losing hope in times of danger can save you in adverse conditions. Here is an instance of a seven-year-old girl for that.
Akhila is from Maktal, Narayanpet in Telangana. She is the younger daughter of Suresh and Mahadevamma. She is studying Grade 2 in Shishumandir.
She went outside on the 20th of this month to buy chocolate. But she did not return even after evening.
As there was a Fair going on at the nearby place, her parents thought that she would have gone there. They announced in the mic for her. They even lodged a complaint with the police.
But, it is vain as they could not find her. Yet, they did not lose their hope and were praying to the god to keep their daughter safe.
What actually happened was Akhila went upstairs to play. She accidentally fell on a plastic roof of their neighbor's bathroom.
It was broken and she fell into the bathroom. Unfortunately, there was no one hear her cry at that time.
Her neighbor, who is a teacher had gone to visit his family members in Hyderabad due to summer vacation. He returned home after five days.
When he opened his bathroom door, he found the girl in a distressed condition. The girl is alive as she did not lose her hope.
Though there is nothing to eat, she drank the water in pots in the bathroom and survived for five days.
After bringing her out, her parents took her to a hospital where she was given saline. Currently, she is weak and in the shock of the incident.
All her neighbors and others who have known this incident praised the girl for not losing her hope even in adverse conditions.
Image Reference: Eenadu
What's new at WeRIndia.com