India's First Woman Firefighter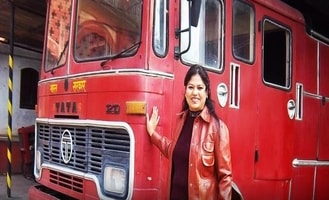 Most people go with their routine life. But, only certain people like challenges and go through the odds.
Harshini Kanhekar is one of them. She is the first woman firefighter in India. in 2006, she became the first woman to graduate from the National Fire Service College (NFSC) in Nagpur.
Interestingly, Harshini was inspired by another woman, Shivani Kulkarni. Shivani is the first female pilot of the Indian Air Force from Vidarbha.
Harshini found no women on the campus when she joined. Yet, she was not worried. She wanted to study in that historic college.
Even the administrative authorities told her that it was a college of men and asked her to apply elsewhere which has facilities for girl students.
But, Harshini did not change her decision. She passed the entrance exam which is in the style of Union Public Service Commission conducted to fill 30 vacant seats of the college.
She cleared the medical exam and even finished her interview.
Yet, she was not given admission and she had to prove herself as deserving like the men.
The course required vigorous physical activity including dealing with heavy water hoses and suction hoses. It also involved mock drills.
But, she never stepped back. She used to attend drills and parades.
Since she is the only girl student in the college, the college had to obtain special permission from the Home Ministry to let her go home after classes.
Harshini joined the Mehasana fire station in Gujarat after finishing her graduation. She became the first woman to handle offshore drilling services.
She is an experienced biker and is married to a fellow biker. She tells young women not to stop chasing dreams and do the things they are passionate about. She also says there is no gender-dominated profession and if you want to go through any profession, you have to go for it by facing challenges and odds if any.
Harshini became a role model and inspiration to several young Indian women.
Image Reference: Thebetterindia
What's new at WeRIndia.com