India's first woman engineer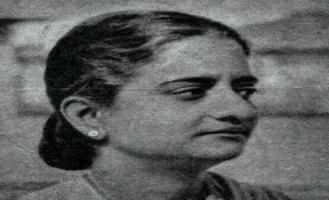 Do you know who is the first woman engineer in the country? Are you aware of how she achieved that degree in hardships?
Here it the motivational story of Lalitha, the first woman engineer of India.
Lalitha was born in 1919 as the fifth of seven siblings and was married at the age of 15. Within three years, she lost her husband at the age of 18 years.
She had a daughter of four months, Syamala.
Lalitha decided to educate herself and find a typical 9 to 5 job so that it won't hinder her to look after her little baby.
Her father and brothers were engineers. So, she chose engineering. She joined in College of Engineering, Guindy (CEG), University of Madras. She was the only girl in that college. Yet, no boys ever troubled her.
The college authorities arranged her a separate hostel. Although, she was comfortable with her college, but she felt lonely at her hostel.
After finishing her engineering, Lalitha worked with the Central Standard Organisation in Shimla.
She also worked with her father at his workshop. She assisted her father in inventing electromonium (an electrical musical instrument), an electric flame producer and smokeless ovens.
Later, Lalitha settled in the Associated Electrical Industries in Kolkata. While she was focusing on her studies, she never ignored her child. She kept her daughter in the home of one of her brothers and used to visit daughter each week.
Lalitha never thought of remarrying and wanted to raise her daughter among loving people. Her brother's family was supportive in looking after her daughter in her absence.
Lalitha passed away at the of 55 years due to a brain aneurysm leaving her legacy to the next generation. Her services to the country as a first woman engineer are remarkable.
Image Reference: Thebetterindia
What's new at WeRIndia.com