India's first woman ambulance driver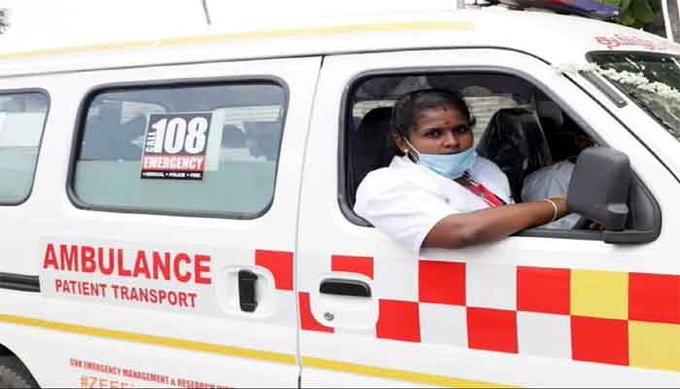 While many go in common ways where others walk, only a few people choose different paths and remain unique.
Here is a woman who chose a different job and became the first to do it. She had been driving a taxi for three years before becoming the first woman ambulance driver.
The government of Tamil Nadu launched a fleet of ambulances in August.  Veeralakshmi has been chosen to serve as the first women ambulance pilot.
As part of strengthening emergency services in the state, Chief Minister Edappadi K Palaniswami flagged off 119 ambulances in the state with ₹20.65 crores in the first phase of the initiative. These ambulances are fitted with advanced equipment. Out of them, 10 ambulances are intended for blood banks in government hospitals.
This 30-year-old from Chennai says that she did not know that she was the first woman ambulance driver until she joined.
Veeralakshmi says that she did not choose this profession for not money, but she wanted to serve the people.
Had she sought money, then she would have chosen other jobs to earn it, but she thought her job would be service-oriented. Hence she chose it.
Veeralakshmi has a Diploma in Automobile Technology. She obtained a driving license and started her journey as a driver in 2015.
She had been a cab driver for three years until she wanted to do more.
Veeralakshmi says that her husband was supportive in the initial days. However, he worried about her during the pandemic.
But, Veeralakshmi does not worry saying that she will take care to protect from the virus. Besides, she will be given protective gears. So there is nothing to be afraid of getting infected.
She is happy and proud to choose the job as she can save the lives of people in golden hours.
She was reminded of her mother's words who used to say that nothing is impossible in life and one must excel in the field chosen.
Image Credit: Indian Eagle on Twitter
Image Reference: https://twitter.com/IndianEagle/status/1301260300914581505
What's new at WeRIndia.com