Heroic woman auto driver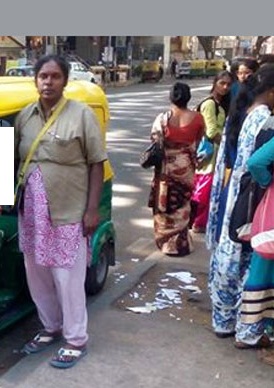 Women are glowing in every field. There are many women who are proving the power of women through their actions. Girija is one among them.
She is a 35-year-old mother of a nine-year-old girl and she is proudly carrying the responsibility of her family. She manages her home by driving an auto-rickshaw in the IT capital of India. Despite it being a male dominated profession, she does it smoothly.
Girija, lives along with her family at Jaraganahalli close to Banashankari. For the past three years she has been driving auto-rickshaw for the last 3 years. She even managed to acquire her own LPG-run vehicle just a month past.
However, she is very realistic about her conditions and the possession of the vehicle she drives round the town for earning sustenance. She says that it isn't her auto-rickshaw. And that it belongs to the bank as she bought it on a loan.
Every day, Girija earns around Rs 500 every day on an average. She says that her earnings might widely vary from day to day. Her husband Ramesh works as a welding staff close in a shop nearby their house and their daughter Kirtana resides in a public school in JP Nagar.
Image Reference: Oneindia
What's new at WeRIndia.com