Govt. teacher conducts Mohalla classes in Chhattisgarh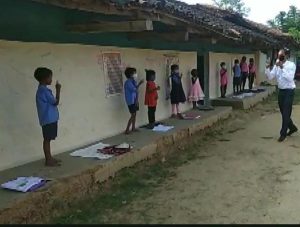 Schools remain closed in the country due to COVID-19. Though students of private schools are getting education through online classes, government school students have difficulty in getting the education as they do not have proper access to essential resources for it.
Many state governments are providing classes on different media including TV. However, many people in the country do not even own a TV.
In this context, to help students get a proper education, a government school teacher in Chhattisgarh came up with an innovative idea. He initiated conducting mohalla classes.
Rudra Rana from Koriya (Korea) district in Chhattisgarh is teaching lessons on the streets.
He travels on his bike with a blackboard strapped to it to educate underprivileged children at their doorsteps.
As students cannot go to schools due to the existing situations, he decided to teach children at their doorsteps.
He also keeps books and placards with him to teach kids along with the blackboard. He rings the bell when he reaches a designated place so that students can come out to listen to classes.
Just like a normal school, mohalla school starts with prayer. Rana tied an umbrella to protect education material from getting wet when it rains. It also protects him from heat as well as rain.
He travels from one place to another to gather students and teach them. His lessons include creating awareness on the novel coronavirus apart from academic subjects.
Students are enjoying his classes a lot. They learn different things from him. Locals appreciate his initiative.
Rana teaches them various concepts so that they can study later on their own. Even though they miss the school, they feel like it is a school as the session begins with prayers and follows an academic curriculum.
Netizens also applauded his initiative and praised his dedication and compassion towards students.
Image Credit: ANI on Twitter
Image Reference: https://twitter.com/ANI/status/1306447430095794177
What's new at WeRIndia.com