Delivery boy helps robbed man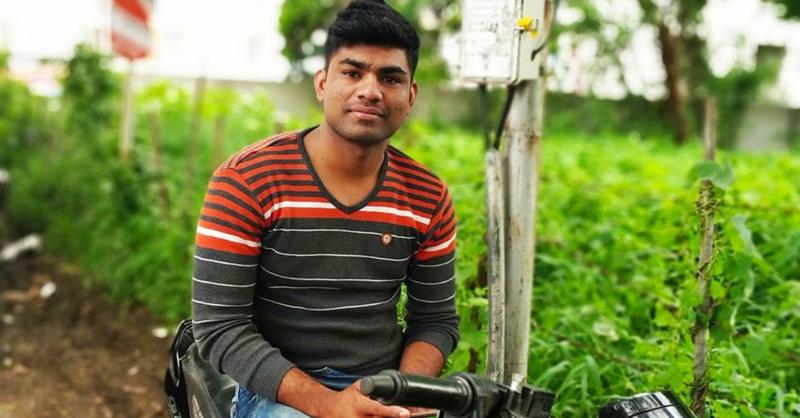 Often small kind deeds have a great impact on others. Especially when someone is losing faith, such deeds restore faith in them.
Here is an instance for such fact.
Purshottam D, a resident of Mumbai, was travelling to Pune on a bus on December 21. He reached his destination at around 10:00 p.m., and realized that someone had picked his pocket.
It was such a frustrating situation for the Mumbai man as he was left without any cash or ID. He had to travel 12 km from the stop to his next destination.
As he had no option, he started walking. After an hour, he was approached by Dyaneshwar Bombade, an Uber Eats delivery boy.
Dnyaneshwar, a commerce student, is currently enrolled in a Masters course. He works as a delivery agent at nights.
He found Purshottam was walking on the road and observed that he was limping, and his leg was hurt. So Dnyaneshwar offered his help and wanted to drop him at his destination.
At the same time, he did not want his customers to wait more time for his order.
So he told Purshottam that he had to deliver two orders first, and could drop him only after finishing his delivery.
But, later Dnyaneshwar felt bad that Purshottam had to go around the city for his delivery.
Hence, he called the customers and asked to wait for just 20 minutes extra for his order. They agreed to that.
Then, Dnyaneshwar dropped Purshottam at his destination comfortably. It was around 8 km.
Purshottam felt very happy for his kindness without expecting anything in return.
Dnyaneshwar says that small help is not a big deal, and it is just a small act of humanity. He wants to help many people to the most possible extent.
Image Reference: Thebetterindia
Recent Posts

Amla Magic: 8 Ways Indian gooseberry transforms your hair

Here are 8 effective ways to incorporate Amla into your hair care routine.

BJP's Ishwar Sahu, a riot victim, triumphs in Chhattisgarh's Saja constituency

During the election campaign, Ishwar Sahu did not shy away from addressing the tragic events.

Bhopal's Sankat Mochan Hanuman temple dresses Gods in warm attire

In a unique and heartwarming gesture, the Sankat Mochan Hanuman Temple in Bhopal, Madhya Pradesh, has adorned idols of gods, including Lord Hanuman, Lord Ganesh, and Lord Shiva, with warm clothes to shield them from the cold winter air. A video capturing this thoughtful act shows the deities donning shawls and cozy attire inside the temple, reflecting a blend of spirituality and seasonal care.
What's new at WeRIndia.com