Tattvan launches E-Clinics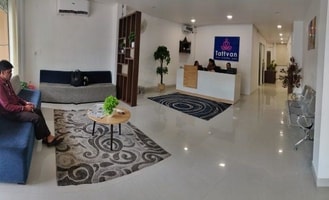 Tattvan is the first of a kind telemedicine healthcare service provider. Its aim is to connect remote locations with world's best medical care.
Tattvan is a revolutionary venture in the Indian healthcare sector with its telemedicine technology.
Tattvan is expanding its healthcare services across several states in India including Bihar, Uttarakhand, Uttar Pradesh, and Jharkhand with 50 E-Clinics in this year.
The company started to provide quality healthcare. Its first E-Clinic was started in Bareilly in July 2018 and the second E-Clinic in Kashipur.
Tattvan E-clinics conceptualized in August 2017. Its headquarter is Gurugram.
In order to meet the healthcare requirements of rural areas, this startup brings doctors of famous hospitals in big cities to these areas.
It has a team of full-time doctors and nurses to provide services to these areas through video conferencing and telemedicine technology.
With its automated patient follow-ups and quick services, Tattavan provides the best treatment to patients in remote areas.
Ayush Mishra, the CEO and Co-Founder, Tattvan E-Clinics said that Tattvan E-Clinics was established because of the need for quality healthcare in both tier II and tier III cities in the country. But, now the company found that quality healthcare is essential even in remote areas and that's why they are expanding to various areas.
He added that the company would expand its services to various cities in Uttar Pradesh including Pilibhit, Haldwani, Rudrapur, Sahajahanpur, and Aligarh in the first phase.
The company is partnering with doctors in other states as well to establish its E-Clinics. In addition to that, Tattvan is planning to launch its international E-Clinic in Baghdad, Iraq in 2019.
Since the establishment of its first E-Clinic in Bareilly, Tattvan is witnessing growth each month. In the last six months, the patients who sought the company's help for surgeries in Delhi has registered a 60 per cent month-wise growth.
Image Reference: Biovoicenews
What's new at WeRIndia.com