Sukino Healthcare provides continuum healthcare solutions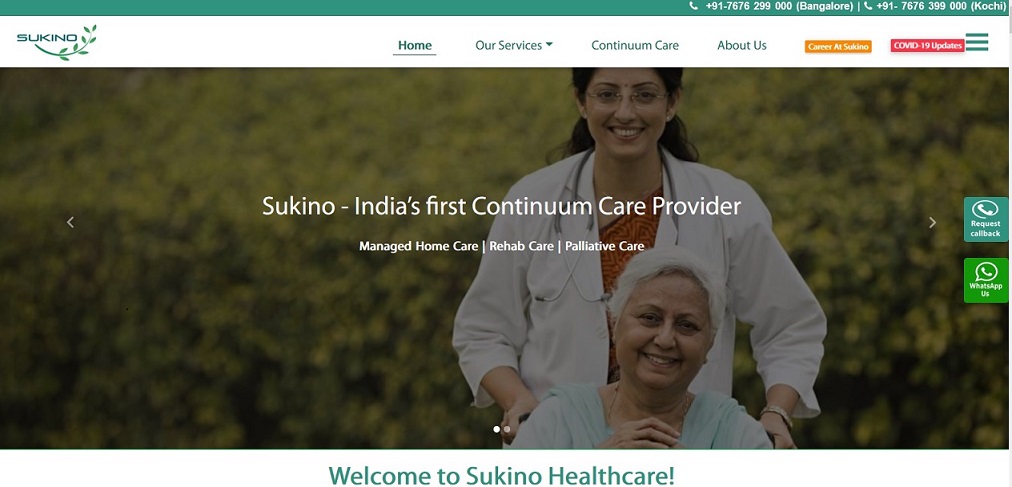 While there is a need for healthcare services in the country, still there is a lapse in the sector. Majority of people are not able to access quality and constant healthcare in the country.
To fill this gap, Rajinish Menon launched Sukino Healthcare. The startup emerged from the personal experience of the founder. When Rajinish Menon's mother was fighting cardiovascular and neurological problems, Rajnish noticed that proper healthcare system was lacking in the country. Besides, there were no constant healthcare solutions for people.
Hence, he launched a continuum healthcare service provider, Sukino Healthcare. Sukino Healthcare is a Bengaluru based startup. The startup provides rehabilitative, recuperative, and palliative care to patients for their faster recovery. It is an out-of-hospital service or post-hospital care provider. Patients suffering from chronic conditions like kidney problems, cardiac diseases, neurological and respiratory conditions, cancer, and postoperative clinical care.
Services are provided at the home of patients or the company's care facilities, based on the condition and need of patients. Treatment is provided and continued as per the suggestion of the primary physician.
The team of doctors will act as per the suggestions of the primary physician. Patients will be assisted round the clock. Trained nurses and caregivers help patients to recover from their illness.
Sukino Healthcare was founded in 2015. It claims that it is the first continuum care provider in the country. So far, 5,000 patients used the services of Sukino Healthcare.
It has a team of healthcare workers including doctors, therapists, nurses and other healthcare givers. It has over 300 members.
As per the report of Grand View Research, the Indian home healthcare market has been growing for the past few years.
Identifying the potential, some more startups are trying to enter the market. Care Continuum, a Kolkata based startup is another one which provides service to elderly people.
Image Credit: Sukino Website Screenshot
Image Reference: https://www.sukino.com/
What's new at WeRIndia.com