StayHappi Pharmacy provides affordable medicines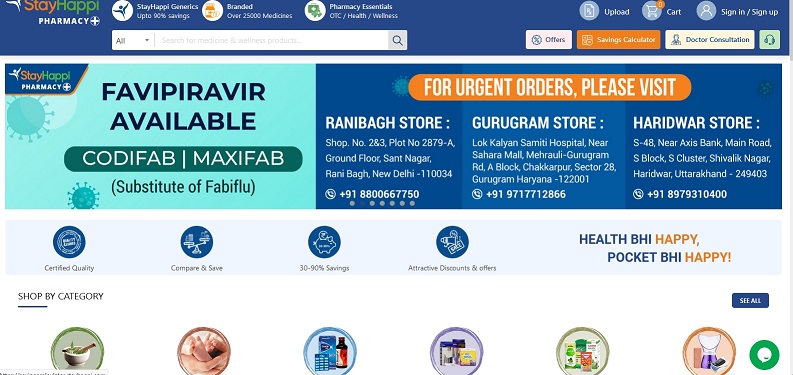 Many branded medicines in the country are expensive. There are many reasons for it. Though generic medicines may be cheaper, many people are not aware of the composition of a branded drug. Hence, they depend on the brand name. Besides, several doctors also prescribe medicines in their brand names.
Many people realize the fact that most of the medicines are not sold at affordable prices. But, they are not able to do anything in this aspect. However, Arushi Jain wanted to do something when she identified a gap in the pharmaceutical industry.
When she was working as an auditor for Ernst & Young, she understood that many medicines sold in the market are expensive. She realized that most of the manufacturers focus on profits rather than reaching more people.
It made her venture into the pharma industry. She has a family background in the pharmaceutical industry. Hence, she launched StayHappi Pharmacy in 2018. It aims to provide quality medicines to people at affordable prices.
This Delhi-based startup partnered with several top pharmaceutical companies for manufacturing medicines. A team of auditors visit manufacturing units to check the quality. They ensure the quality parameters are followed. The startup is manufacturing medicines for almost all diseases. It has more than 550 products.
StayHappi's business model is different from the existing market model, which depends on medical representatives to sell their medicines. It mainly focuses on retail outlets and the franchise model. As it opens stores to sell medicines directly to customers, it saves promotional costs.
Within one year, StayaHappi opened its stores in 279 locations across various states of the country. It aims to expand to more than 2,000 stores. Sourav Ganguly and Vidya Balan are its brand ambassadors. At present, it offers more than 15,000 medicines in both generic and branded. Customers can order online on their website or through a mobile application.
Image Credit: Stayhappi Website Screenshot
Image Reference: https://www.stayhappi.com/
What's new at WeRIndia.com