Salt n soap – Online Grocery Shop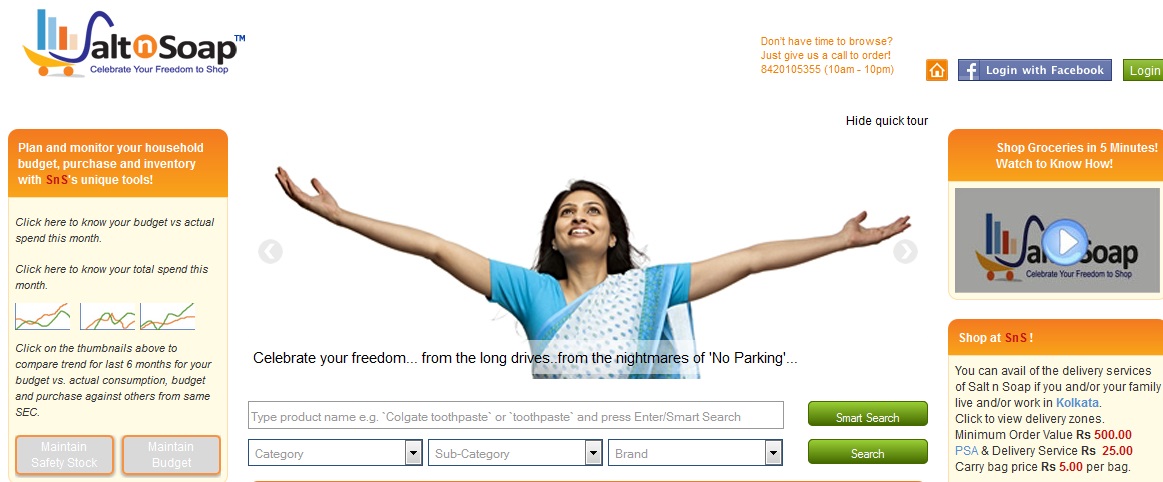 Salt n Soap was established in November 2012 in Kolkata. It is an online grocery store which aims to provide a convenient and enjoyable shopping experience for their regular grocery needs ordered online from their homes. Thus, shoppers can get shopping experience while they are at home without wasting their time in traffic or choosing a particular product which is useless for them and may be known to them after they buy.
Salt n Soap not just provides timely deliveries to their customers but enables them to use the website to shop all the required groceries in a single window without navigating to multiple screens. It is so simple and the shoppers can finish their groceries shopping in just 5 minutes if they know their shopping list.
With the philosophy of "Innovate, Execute, Innovate", Salt n Soap constantly designs innovating features for their customers. The registered users of the website can get "Personalised Shopping Assistant" to help with their shopping. The Personal Shopping Assistants help shoppers in getting the right products. They also suggest the substitutes, new arrivals and benefits and defects of the products chosen by shoppers before making their purchase. The people who deliver the products to customers' homes are verified and their photograph is sent to the shoppers before delivering the goods. Thus, Salt n Soap assures security to their customers.
What's new at WeRIndia.com