Kaigal connects unskilled workers with businesses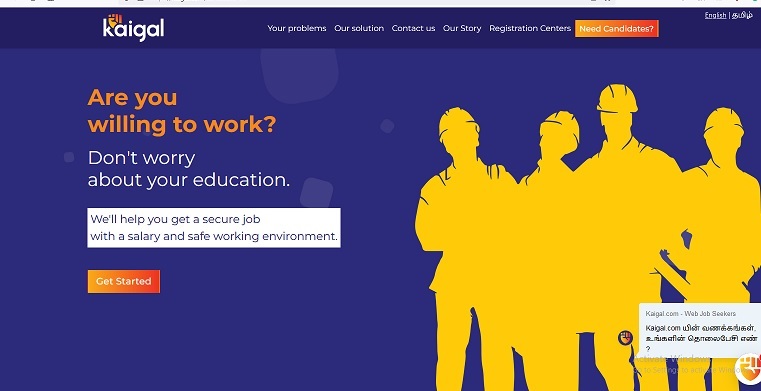 It is easy for skilled workers to find jobs. But there are many unskilled or low-skilled workers in the country. They are most engaged in the unorganized sector.
Kaigal, a Tamil-Nadu-based startup, allows these workers to get better employment. It connects them with businesses.
To maintain regular day-to-day work, companies need blue-collar workers. However, it is difficult for them to hire and retain them. To help businesses find those employees, Kaigal emerged.
Balamurugan Sundararajan, Ravin Somi, and Senthil Natarajan founded Kaigal in 2019. It is based in Namakkal, Tamil Nadu.
This social enterprise aims to help unskilled and low-skilled workers find better employment opportunities. At the same time, it wants to help businesses to find blue-collar workers easily.
The idea of launching a startup for blue-collar workers came out of their personal experiences. Hailing from a business family, Senthil Natarajan has a business.
He struggled to hire blue-collar workers for his business. He shared this problem with his classmates. The trio brainstormed for a solution and launched Kaigal.
Kaigal is working to organise the blue-collar jobs sector. The startup uses technology to resolve issues in the hiring process for blue-collar jobs.
As many workers are not tech savvy, the founders wanted to reach them in a familiar way other than a mobile application or a website. Hence, they used social media platforms like WhatsApp and Facebook known to many people.
The startup charges commission from companies. The commission varies, starting from ₹1,000 for hiring a candidate. Around 22,000 people got jobs through the portal.
Since the startup is dealing with an unorganized sector, job aspirants do not have resumes. In addition to that, many businesses also rely on consultancies to recruit candidates. However, Kaigal has overcome these issues.
Kaigal has a team of 18 members. Around 7,000 businesses have registered with it. Nearly 1.7 lakh job aspirants from various parts of Tamil Nadu registered in the database of the startup.
Image Credit: Kaigal Website Screenshot
Image Reference: https://kaigal.com/candidate-en
What's new at WeRIndia.com