Happy – A digital lending startup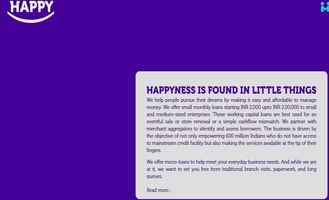 Happy, as the name suggests, aims to make its customers happy by providing instant loans.
Its aim is to provide flexible digital loans to micro and small businesses in more than 500 location of the country.
Happy, a FinTech company wants to improve its artificial intelligence (AI) model and loan portfolio by increasing its capital.
Happy is a Mumbai based startup. Happy loans are disbursed within 5 minutes with minimal documents.
They are completely paperless. This is possible through their AI system. it processes hundreds of variables to evaluate the creditworthiness of a customer. The repayment behavior is one of the most weighted variables fed in the system on a real time.
Happy is partnered with over 17 partners in the country to get access to over 5 million retail entrepreneurs.
Happy provides loans in the range of ₹2,000 to ₹2,00,00 to small and medium-sized enterprises to improve their cash flow for their business growth.
The micro-loans offered by the company helps them meet daily business needs of the enterprises.
Micro-enterprises in India contribute 37.5 per cent to the country's economy and employ 20 per cent of India's workforce i.e. over 100 million people. Hence, these businesses are crucial for the development of the country.
Yet, these small businesses often face financial difficulties. There are millions of people that need financial assistance for their economic growth. In order to solve their financial needs, Happy came into the field.
Happy was founded by Manish Khera, Gautam Ivatury, and Shweta Aprameya in 2016. So far, 32,000 loans and an amount of $20 million have been disbursed to more than 80 types of businesses in the first two years of its operations by Happy.
Happy has access to over 2.5 million micro enterprises through their business partners across the country.
The company is ready to make an orbit shift with digital lending in the country.
Image Reference: Happyness.net
Recent Posts

Amla Magic: 8 Ways Indian gooseberry transforms your hair

Here are 8 effective ways to incorporate Amla into your hair care routine.

BJP's Ishwar Sahu, a riot victim, triumphs in Chhattisgarh's Saja constituency

During the election campaign, Ishwar Sahu did not shy away from addressing the tragic events.

Bhopal's Sankat Mochan Hanuman temple dresses Gods in warm attire

In a unique and heartwarming gesture, the Sankat Mochan Hanuman Temple in Bhopal, Madhya Pradesh, has adorned idols of gods, including Lord Hanuman, Lord Ganesh, and Lord Shiva, with warm clothes to shield them from the cold winter air. A video capturing this thoughtful act shows the deities donning shawls and cozy attire inside the temple, reflecting a blend of spirituality and seasonal care.
What's new at WeRIndia.com