Fyllo redefines agriculture with digital innovation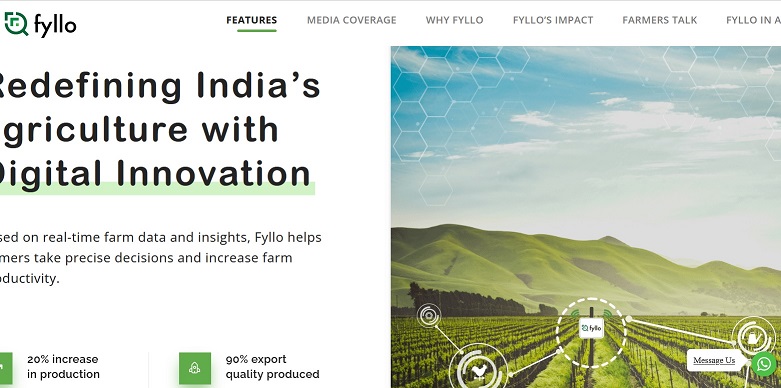 The majority of rural Indians depend on agriculture. Soil and fertilizers, climate conditions, and many factors affect the harvest.
To help farmers improve their productivity, Fyllo emerged into the market. It is an innovative device. It provides real-time farm data to farmers so that they can take proper and timely decisions to improve the yield. This device helps farmers in many ways when installed at the farm.
Fyllo is a Bengaluru-based startup. Sudhanshu Rai and Sumit Sheoran are the founders of the startup.
Hailing from an agricultural background, the duo is aware of the problems involved in farming and the challenges faced by farmers. Having seen the problems in agriculture since childhood, they wanted to develop a one-stop agronomy solution to solve the problems of farmers.
Fyllo is an agritech startup that redefines agriculture with digital innovation. It not only provides weather updates to farmers but gives accurate data-driven solutions.
The device understands the soil conditions and irrigation needs. It also suggests the optimum schedule to get the desired quality of crops.
The sensors in the device analyze algorithms in the cloud. It provides weather predictions for two weeks for farmers to manage resources effectively. Farmers can get alerts and recommendations on their mobile phones through the application.
The startup aimed to help farmers grow export-quality crops. It offers technology-driven solutions through IoT and AI.
The founders claim that it is a complete solution to all farming problems. They developed crop-specific models to be useful for more farmers.
These solutions are developed for each stage of the crop, including irrigation, diseases, pests, weather management etc.
They said that Fyllo helps farmers improve production by at least 25 percent while reducing the total cost of production. Besides, due to improvement in export quality, farmers can make more money on exports by increasing the price.
Image Credit: Fyllo Website Screenshot
Image Reference: https://fyllo.in/
What's new at WeRIndia.com