Vegetable Dyes – A Natural Alternative to Synthetic Colors for Wooden Toys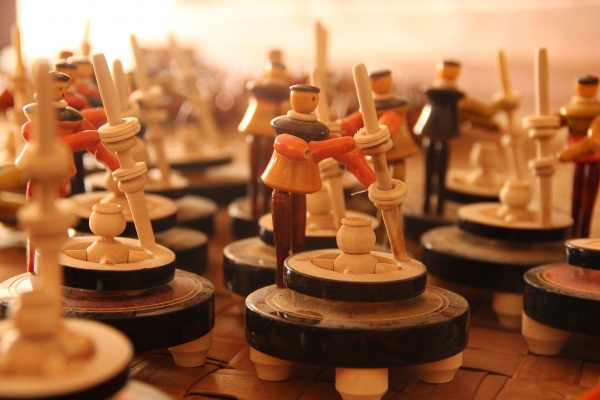 The art of creating wooden toys has been dying in the craft community. However, in the craft community of Etikoppaka, C V Raju has begun to revive the art. After the year 1910, titanium oxide bonded synthetic colors were used to make wooden toys by the craftsmen. However, Raju has focused his strategy on increasing the traditional local knowledge about making vegetative dyes, create new tools, techniques, and methods in order to increase the shelf life of the dyes. He has also focused on creating new uses for the dyes.
The experiments and strategies that Raju has used resulted in the creation of many new toys which are imparted with vegetable dyes. The market for these toys is slowly increasing in India and even abroad. The objects made in Etikoppaka are made with Vegetable dyes.
There are a wide range of these objects which include toys, candle stands, vermilion boxes and bangles etc. The craft community of Etikoppaka has created many enchanting and eye catchy designs. Their products include bright colors and have a very earthly appeal which attract a lot of audience. In the present world, the community of Etikoppaka is a part of the rural folk tradition.
What's new at WeRIndia.com