Solar-powered disinfectant for COVID-19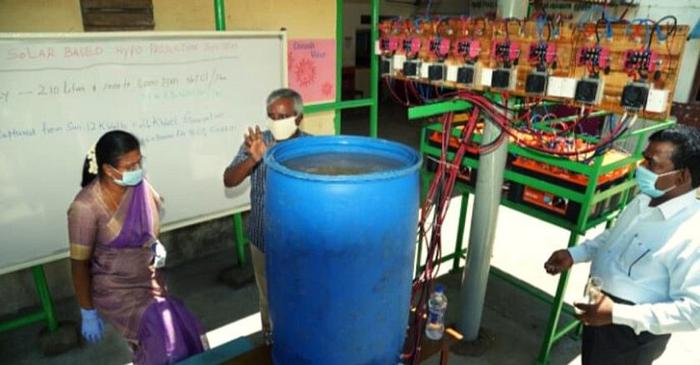 Elango Rangaswamy is a popular person. He has been working for the welfare of his village, Kuthambakkam for 25 years.
Now, he devised a solar-powered disinfectant unit to fight against COVID-19. This unit can be installed anywhere easily.
Earlier also, Rangaswamy helped his villagers get small solar kits for fans and lighting.
Elango Rangaswamy has been working for the welfare of the Dalit community. He was raised in a privileged Dalit family. His father had a government job. Hence, he had several facilities in his home and he could go to the city to study there.
He too got a government job. But, when he saw the conditions of his neighbours and friends in his village, he became empathetic. He wanted to do something for the upliftment of his community.
Before Rangaswamy initiated improvement measures in his village, it had several issues like poverty, illegal liquor trade, domestic violence etc.
Dalit discrimination was also common in that village. Rangaswamy quit his government job and contested in Panchayat elections to improve the conditions of his village.
After winning in the elections, he educated villagers and trained local leaders to put an end to liquor menace and domestic violence.
Now, in the coronavirus pandemic, he developed a solar-powered disinfectant unit to increase job opportunities and improve the standard of living of women in his village.
As his innovation works on natural solar power, it saves fossil fuels. The solar power unit just requires salt and water as raw materials.
Besides, the machine is user-friendly. Anyone can easily operate it with a basic understanding of the system. Hence, Rangaswamy hopes the machine can empower women by increasing their job opportunities in rural areas.
A machine of 25-litre can fulfil the needs of more than 200 families. It is available for ₹80,000. The machine is useful for disinfection of large areas such as apartments.
Image Credit: Thebetterindia
Image Reference: https://www.thebetterindia.com/234596/tamil-nadu-innovation-solar-powered-disinfectant-machine-covid-19-job-loss-innovation-empower-rural-communities-ser106/
What's new at WeRIndia.com