Solar plants fuel Indian business needs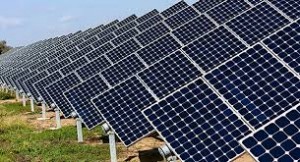 Continuous electricity cuts and government's "power holidays" has made the Indian IT firm ValueLabs look for that huge alternative—the sun!
Solar energy can supply power in its head office. In July, it erected a 13-megawatt solar plant that could stoke power for 6,000 homes and manage to get the lights blazing as well as the computers to continue humming for 3,000 employees in Hyderabad. Excess electricity is getting sold back to the grid.
The plan is to use the whole quantum of power generated from the plants in the coming years for existing as well as the upcoming campus, according to a senior ValueLabs executive.
Factories and businesses have installed over 30MW of rooftop solar panels in the last year, data compiled by New Delhi-based consultancy Bridge To India shows. It is a small amount when you pit it against India's solar capacity of 2,700MW.
Annual growth will help to hit more than 60 per cent in the next five years, as falling panel prices make installations more alluring.
In a sign that even big business is warming up to alternative energy sources, India's second-largest IT exporter Infosys is building a 50MW solar plant in Karnataka to meet 30 per cent of their power needs.
With rooftop and smaller utility plants showing the potential to provide up to 83,000MW of solar energy, more than half of India's potential solar capacity will be out by 2024.
Along with SunEdison, First Solar is among foreign panel suppliers expecting to profit from the rising demand in India. By ramping up renewable energy, and moving the country off from coal and oil, the solar companies are hoping to spread power to all.
Currently, India's electricity distribution companies, which are ordered by politicians to keep prices at low levels, have little incentive to buy renewable energy — roughly 15 per cent pricier than thermal — because they cannot pass this on to consumers. But for other companies, choosing solar energy is the best alternative.
What's new at WeRIndia.com