Meet Abhishek who makes time bombs, an Automatic Food maker, A robot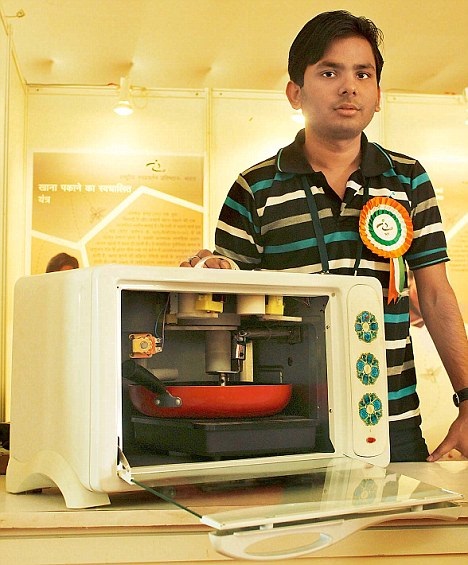 This young innovator goes to show that curiosity and enthusiasm can make a great innovator. Abhishek Bhagat, realized how tedious it was to cook when his mother fell ill. In order to make the process much easier, he made a machine that cooks food automatically.
Curious at heart, he made a time bomb at the age of 12 using a torch, an alarm clock and an explosive fire cracker which exploded as soon as the clock struck four. His family and neighbours were concerned due to his "destructive" behavior. He was sent to a hostel to control his behavior. However, the mind of an innovator is hard to stop.
"It was just an experiment and I wanted to check how it works. But it was at the time when the World Trade Centre attack had just happened. My family and neighbours thought that I was in wrong company and going on a wrong path. They got so scared that they sent me to a hostel," he remembers.
Not knowing what to do with his innovative skills, he contacted the president then Dr. APJ Abdul Kalam. It was a surprise to him when Dr. Kalam actually responded suggesting that he send his ideas to National Innovation Foundation.
At the age of 13 he invented a food making machine. He also works on robots and is hoping to make robots which can do all human tasks.
Image Reference: Thebetterindia
What's new at WeRIndia.com