Invention converts kitchen waste to cooking fuel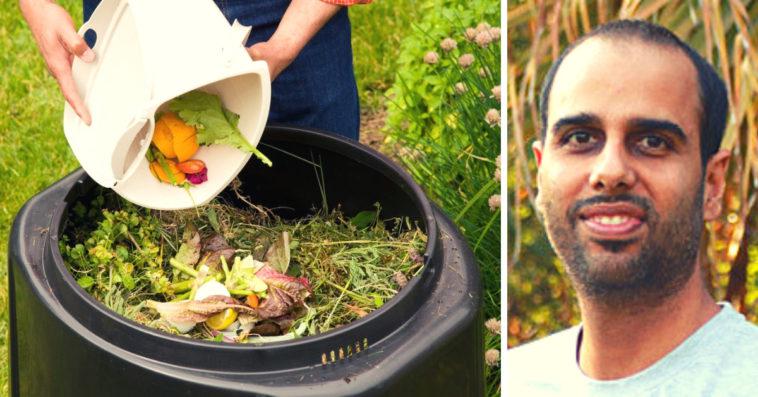 Kitchen waste management is one of the major issues in India. Despite several measures being explored, it is still a major problem to tackle.
Whenever you cross an open garbage dump, you have to guard your nose to prevent it from foul smell. And the major components in this garbage are kitchen waste ingredients.
But, when Kabir Udeshi happened to cross an open garbage dump, he found himself scrutinizing the case which was linked to the kitchen waste.
Kabir wanted to find a solution. He is a mechanical engineer.
He set a project 'Dedko' to solve the issue. He finalized his project after several trial and errors.
'Dedko' means frog in Gujarati. And the mechanism of 'Dedko' is similar to that of frog which expands the size of its throat when it stores gas.
The cylindrical structure tuns all biodegradable waste into a paste and then into biogas. This biogas can be used for cooking in the kitchen.
Using his invention, Kabir's family has been managing their kitchen with zero-waste for the last five years.
Their wet biodegradable kitchen waste is processed into biogas whereas their dry waste is being given to the rag pickers.
The machine also produces liquid fertilizer as a by-product from a separate outlet. It can be used for home plants.
The Dedko is priced at ₹25,000. It is ideal for homes and small households. There is another larger version of this machine, called the Rhino which ranges from ₹2 lakh to ₹22 lakh based on its capacity.
These large machines are ideal for housing societies, institutions etc.
As the demand is rising, Kabir plans to make the simplistic version of the machine work just by pushing a button. He believes his invention would reach the common public if the usage is simple.
Image Reference: Thebetterindia
What's new at WeRIndia.com