Furniture from Rice husk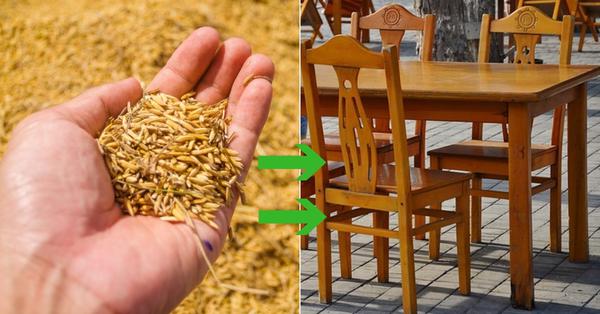 Rice husk is the yellowish cover that protects rice. It is separated from the rice after the rice milling process.
In order to make rice husk useful, a team of students from IIT Kharagpur wants to make furniture and kitchenware with it. The team, Team Mettle has participated in the competition of Hult Prize 2019.
The Hult Prize aims to support potential entrepreneurs to help them create social enterprises.
The team became the champions of this prize by winning the competition. They will receive a seed capital of $1 million in association with the Bill Clinton Foundation.
The team has four IIT students: Harshit Garg, Shivendra Gautam, Priyank Sangani and Rajat Maheshwari.
India is a pioneer of paddy production. Hence, the team identified the potential use of rice husk to regular utility materials such as furniture, kitchenware and pens.
Initially, the team emphasized the product options like packaging material and kitchenware by using rice husk.
Yet, they explored the option of making furniture at later stage.
Rice husk is being produced on a large scale. Furthermore, most of it is being wasted.
If the model is possible and comes into use, rice husk would be utilized for making products. In addition to that, plastic consumption will also be reduced.
Harshit Garg is a student of the five-year integrated geophysics and geology course. He said their model will be beneficial for paddy millers and also for consumers to get furniture at affordable prices.
The team proposed to produce a roll of sheet by pouring adhesive and chemical in the rice husk. This sheet can be used to produce the body of ball pen, kitchenware and pitch boards.
Now, they are building the prototype. They are taking the technical support from third-year students.
The model is expected to provide thousands of jobs in the assembly line.
What's new at WeRIndia.com