Clay fridges and 2-minute coolers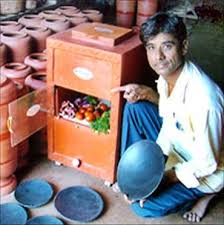 Mansukhbhai Prajapati is literally a son of the soil. This traditional claymaker was a severe victim of the Gujarat earthquake, but still used the earth to create a clay fridge. Thus, he made Mitticool, which runs without electricity! It is also said to retain the original taste of food.
Born in Nichimandal village of Morbi, Rajkot, Mansukhbhai was exposed to traditional clay making since childhood. In 1988, he dropped his job and took a loan of Rs. 30,000 to start an earthen plate manufacturing factory.
He registered 'Mitticool' in 2001, but lost it in an earthquake in 2001. In 2002, he reworked on the design and came in contact with GIAN (Grassroots Innovation Augmentation Network).
Like other earthen pots, his fridge does not require electricity or any artificial energy, yet it can improve the shelf life of coriander by four days against the one-and-a-half to two days in normal room temperature. The shelf life of vegetables such as brinjal, chilly and okra was increased by 5-6 days.
In 2004, he developed a non-stick coating of Azo Noble for earthen pans. It uses less oil than a normal one, preserves the natural flavor of food, and is cheaper. It even consumes less LPG and does not even wear off, as the coating gets absorbed by the earthen material.
With NIF-India, he has also developed an earthen thermos flask of 1 to 2 litres. His current interest is 'Minute Mitticools' which cools water in just 5 or even 2 minutes.
Today, this dynamic man is either experimenting, testing or touring the country to market his products. Collaborating with the retail giant, Future Group, he sold his products at various branches of Big Bazaar.
What's new at WeRIndia.com