Shirdi Sai Baba, a Hindu or Muslim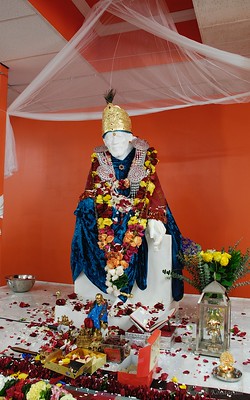 Many devotees worship Shirdi Sai baba. Hindus believe that Sai baba was the incarnation of Sri Dattatreya, whereas Muslims believe that He belongs to their religion.
Sai baba in his appearance looks like a Muslim. Moreover, his renowned epigrams 'Allah Malik' and 'Sabka Malik Ek' are associated with Islam.
He lived in a mosque. They also argue that 'Sai' is an Urdu name and baba means father.
He used to practice the worship procedures of Islam. He used to chant Al-Fatiha and Quran readings at festival times.
He enjoyed listening to mawlid and qawwali. As per these, Muslims say that Sai baba was a Muslim.
However, the arguments of Hindus are different. They argue that 'Sai' is a Hindu name, which means God, but not an Urdu name.
This argument is popular because, the origin of Sai baba was not known.
At that time, a temple priest, Mhalsapati called him Sai by welcoming him. So, Hindus confirm that 'Sai' is a Hindu name.
Moreover, Sai baba named the mosque where he was living as 'Dwarakamayi' which is a Hindu name.
One of his avid devotees, Mhalsapati said that Baba said he was born to Brahmin parents, but had been entrusted into the care of a fakir in his infancy. But, it can be said that only God knows the truth.
Sai baba never revealed his origin and whereabouts. This is because He did not want both Hindus and Muslims to quarrel. He did not support any religion. He wanted their unity, that's why he never revealed his religion even though several people had questioned about it.
Rather, he quoted texts from Ramanaya and Mahabharata to Hindus and advised them to read them and cited the texts from Quran to Muslim and suggested them to read it. He interpreted the religious texts of both Islam and Hinduism.
So, worship Him without having a feeling of caste or religion.
Reference: Wikipedia
Image Credit:- "Anaghadatta – Sai Baba temple, Anaghadatta – Sai Baba temple" by Kondapalli Photography is licensed under CC BY 2.0.
Image Reference: https://www.flickr.com/photos/kondapalliphotography/11429632856
What's new at WeRIndia.com