PM Narendra Modi – Man of Actions, who revived the hope of Indians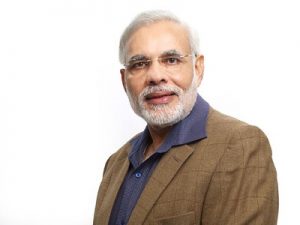 Narendra Modi, the 15th Prime Minister of India was born on 17 September 1950 in Vadnagar, Gujarat, India. He is the first Prime Minister who was born after India got its independence. He is the third of six children. Modi began to attend local branches of RSS at the tender age of 8 years and became a junior cadet in RSS. He became full time RSS pracharak by the age of 20 years.
He got married to Jashodaben Chimanlal at the age of 18 years, but they were soon estranged as Modi decided to pursue an itinerant life. Narendra Modi did not reveal his marriage till the 2014 general elections. He revealed her name during the nomination for a parliamentary seat. Modi helped his father by selling tea in his childhood. He ran a tea stall along with his brother in his teenage.
At the age of 34 years, Modi joined Bhartiya Janata Party (BJP). Within 10 years, he became the general secretary of BJP. Modi has been the chief minister of Gujarat for 4 times since 2001. In May 2014, he resigned to the post of CM of Gujarat to take the role of PM. Development, growth and good governance are the three pillars for the success of Narendra Modi as CM. Development is the motto of Narendra Modi which made him the PM. India is the largest democratic country in the world, but in real life it didn't seem so yet. The greatness of Indian democracy is that a tea seller now became the Prime Minister of India and remained in the hearts of billions of Indians.
The PM, who is a man of actions, does not reveal his plans too much. Before swearing as Prime Minister, Narendra Modi sought the blessings of his mother Heeraben. This reveals his obedience to elders. The first speech in the Parliament touched many people and Modi caught the attention of people like no other PM before. Anyone can understand now that our PM values sentiments.
He swore as Prime Minister of India on 26 May 2014. It was around 110 days ago. There are many milestones achieved during his rule.
Some are as follows:
Narendra Modi strengthened the relations with SAARC countries by inviting them to his oath-taking ceremony.
The proposal made by the Centre under his leadership on black money made Swiss Bank amend their laws.
His speech on Independence Day inspired many people as he called himself a "Chief Servant" to the nation and urged India to become self-sustainable.
Jhan Dhan Yojana which is proposed by the Central government of India intended to open saving bank accounts for all citizens who don't have saving accounts in any bank so far. Nearly 1.5 crore account holders used this option by opening accounts on the first day which is a record.
Narendra Modi is the first PM to make a bilateral visit to Nepal in 17 years. His tour sped up the negotiations on a power trade pact.
His tour to Bhutan increased India-Bhutan's commitment to extensive development cooperation and enhanced economic ties.
His Japan tour enhanced cooperation in defense and other strategic areas.
Many Indians are eagerly waiting for his speech in US in the next week.
Modi gives speeches in Hindi and would like to remain the brand ambassador of India. since Hindi is the third most spoken languages of the world.
Many new Bills are proposed by the Central Government to control offences. New Vehicle Bill regarding control of road mishaps and enhancing fine for public smoking are some of them.
Modi's pet project to clean the river Ganga is to be supported by Israel.
Being a tech savvy, Narendra Modi uses technology like no other Prime Minister ever. A government website mygov.in is launched by him where citizens of India can share their opinions and send their suggestions.
Image credit: Narendra Modi image by Global Panorama is licensed under CC BY-SA 2.0
Image Reference: https://www.flickr.com/photos/121483302@N02/14020901609
Recent Posts

Here is a list of some great events

Kochi Metro launched a special Independence Day offer

Space Kidz India, an organization, unfurled the Indian
What's new at WeRIndia.com