These brothers make 180 types of dosas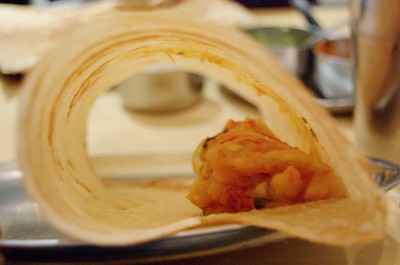 The four Pai brothers: Narasimha Pai, Purushothama Pai, Sivananda Pai, and Anantha Pai are the founders of Pai Dosa. Pai Dosa is a dosa restaurant in Kochi, which consists of several outlets.
At first, the Pai brothers started out with a simple roadside dosa stall that served 6 varieties of dosa. Later, they expanded to 36 varieties of dosa.
Today, Pai Dosa has around 180 unique varieties of dosa and many different outlets within the city.
The Pai brothers expanded their menu after they conducted a lot of experimentation on different dosa varieties.
These dosa varieties range from more normal varieties to very peculiar varieties, with equally peculiar names.
One of the unique varieties of dosa at Pai Dosa is the SI Bharathan. This dosa was named after a regular customer. Everyone calls him SI Bharathan because he looks like a cop, even though he is not a cop.
He would always ask for a particular dosa that contained quail eggs and was very spicy. Thus, this particular dosa became a new variety at Pai Dosa.
The restaurant also has several other unique and interesting dosa varieties.
One of these varieties is the Salt and Pepper Dosa, which was dedicated to the 2011 Malayalam film. Another variety is the Ruby Pai Dosa, which is dedicated to the mother of the four Pai brothers.
One of Pai Dosa's craziest dosa varieties is the Dundu Dosa. The Dundu Dosa contains vegetables, eggs, cheese, cashews, and even chocolate.
This variety of dosa came about when Devanand K. Prabhu, the chief chef of one of the Kochi branches, experimented with it on a friend.
Surprisingly, Prabhu's friend enjoyed it, and so did other people who tried it.
Thus, the Dundu Dosa became one of the many dosa varieties on Pai Dosa's menu.
Although many of the restaurant's dosa varieties seem crazy and unbelievable, that is part of the charm of Pai Dosa.
The uniqueness of the dosa varieties is one of the main reasons people come to the restaurant.
Pai Dosa is a must-visit for all fans of unique dosa varieties, as well as anyone who is a fan of dosa in general.
Image Credit:- "India, Day 2" by Scott Dexter is licensed under (CC BY-SA 2.0)
Image Reference: https://www.flickr.com/photos/ampersandyslexia/3245701445
Recent Posts

There are certain rules and customs duties for

Vitamin B12 is commonly found in meat, fish

These IIT students designed a water purifier that
What's new at WeRIndia.com