Asia's 'cleanest' village?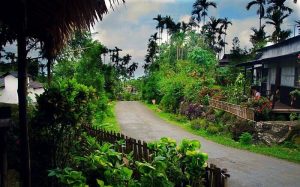 As we wallow in our waste-ridden and rapidly deteriorating cities, it wouldn't do us harm to take a look at Mawlynnong, just 90 kms from Shillong, which was called "The Cleanest Village in Asia" in 2005, by Discover India magazine.
Let's take a leaf out of their book of cleanliness, then. Nestled in the pristine East Khasi Hills of Meghalaya, the villagers in this beautiful area have built meticulously clean and well-maintained black tarmac, as well as squeaky-clean front-yards and sidewalks for the bamboo stilt houses. Stylishly posted bamboo dustbins, separate compost pits in various pockets of the village for organic and inorganic wastes, and banning the use of polythene bags as well as smoking has helped the village to shine.
How they do it is simple. Every evening, the entire village, including children, gets into the weeding, sweeping and cleaning. Public toilets are maintained by everyone. An efficient, localized water supply and sanitation system helps to keep the village spotless.
Over a nearby passing river, there is a beautiful living roots bridge that is over 200 years old, and was built by tying the roots of banyan trees and getting them to create a passage over the stream. The Sky-view tower on the east is tall, constructed on a tree with bamboos. Small, wild trails, waterfalls, sacred forests full of flora and fauna, and guest houses that are built on stilts on trees give you a beautiful experience.
The self sustaining models are basic but strong, and include the behavior and customs of the people. With a lot of tourists, the challenge of maintenance as well as culture here, along with educating tourists is immense. The lessons to be learnt are equally challenging and necessary—to us, not them, of course.
Amazing, isn't it? We boast of better technology and bigger infrastructure. But how can we emulate their self-sustaining environment systems and eco-systems?
Pick up a broom and begin to sweep—outside your house.
Palkyi / CC BY-SA (Free for Commercial Use)
Image Reference: https://commons.wikimedia.org/wiki/File:Mawlynnong_cleanest_village_in_Asia.jpg
Recent Posts

These IIT students designed a water purifier that

Lifaffa is a social enterprise.

Rupali Kakade, a Pune woman turned into an
What's new at WeRIndia.com