Amaravati becoming a futuristic capital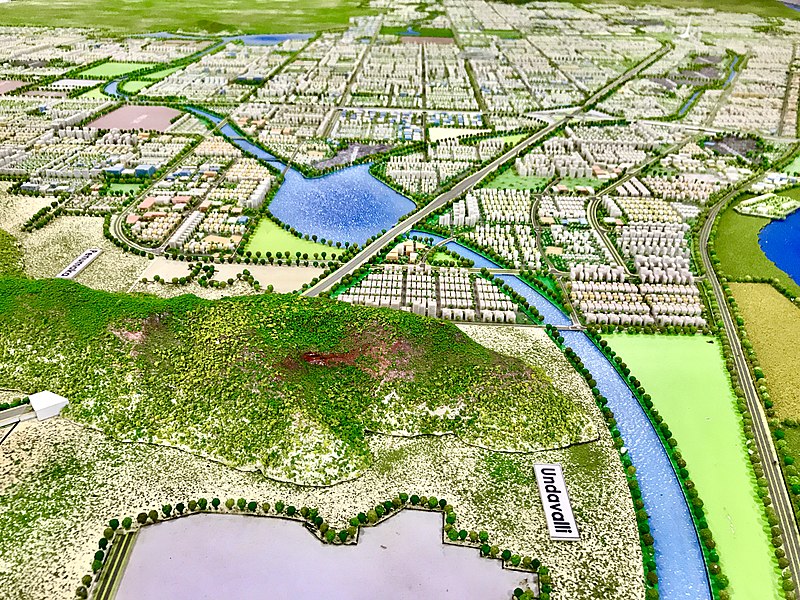 When Telangana split from Andhra Pradesh, the state was left without a capital, since the new state claimed the former state capital of Hyderabad as its own.
In its place, Amaravati was chosen as the new state capital of Andhra Pradesh.
It has started off small, but in the coming years, Amaravati may become a city unlike any in the country.
With its futuristic city plans and the backing money to bring them into fruition, Amaravati may become not only the most beautiful city in India, but one of the most beautiful cities in the world.
The city has several smaller plans making up parts of the greater whole, and if all of them come into fruition, then there is no doubt that Amaravati will become a spectacle to behold.
One of Amaravati's biggest appeals will be its beautiful aesthetics and state-of-the-art architecture. The city will have four prominent gateways, each of which will resemble the entrances of historic temples. The city squares will be designed around the famous Duke of York and Trafalgar squares.
Amaravati will also have public spaces, such as Battersea Park in London and Rajpath in New Delhi. The High Court will be designed to resemble a Buddhist Stupa, in respect to the ancient Buddhist roots of the city.
Another one of Amaravati's big appeals will be its environmental friendliness.
It will be designed as a green and blue city, with 51% of it being designated green spaces and 10% of it being designated water bodies.
There will be affordable housing and 100% Wi-Fi, and there will be no overhead electric wires and mobile towers. Additionally, there will be extensive walkways and cycling tracks developed, in order to promote an environment of non-motorized transport.
Amaravati will be a smart city, with a new national database linked to every property.
The residents will pay their property taxes and utility bills using their bank accounts and mobile apps that are linked to this database.
This will prevent owners from avoiding visits from government debt collectors, and it will also make paying these fees much more convenient.
Image Credit:- IM3847 / CC BY-SA
Image Reference: https://commons.wikimedia.org/wiki/File:3D_Model_of_Amaravati_in_APCRDA_office,_Vijayawada_(5).jpg
Recent Posts

Ice apple is loaded with many vitamins like

Banks disburse a higher amount to buy new

The Delhi Traffic Police issued a circular stating
What's new at WeRIndia.com