UAE offers ₹700 crores to help with Kerala floods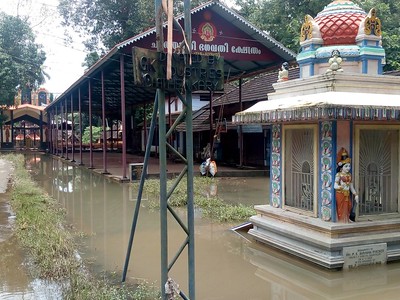 The floods in Kerala have caused major damage to the state. Many people are now actively trying to help the state fight and survive.
Now there is some international help for Kerala as well. The United Arab Emirates has offered a financial assistance of ₹700 crores for the Kerala flood relief.
This comes just days after the country said that it will be setting up a national emergency committee to provide relief assistance for Kerala floods.
Their committee will be chaired by the Emirates Red Crescent (ERC). It will also consist of members from UAE's humanitarian organizations.
Regarding the horrible situations in Kerala, UAE's vice president Sheikh Mohammed asked his countrymen on twitter to help the flood affected regions.
He said that the state of Kerala in India is suffering with the most devastating floods in a century. Due to these floods, hundreds have been killed and thousands have been displaced. He asked that his country people should help the 'brothers in India'.
Furthermore, Mohammed also talked about how Keralites were very helpful in the development of UAE. He said that in return for that help, it is the duty of UAE to help and support the affected people.
India forms a core part of the UAE as well. There are around 2 million Indians in the UAE. They make up about 27 percent of the population.
Due to the horrible conditions in Kerala, many people are struggling there. Narendra Modi has already ordered an aerial survey of the region. He also immediately offered an assistance of ₹500 crores to the state government.
That is not all, the Kerala state government received funding from other state governments like Telangana, Andhra, Delhi, Punjab as well.
Let us hope that the people of Kerala can find relief soon.
Image credit: Kerala Flood Relief by Ramakrishna Ashrama, Tiruvalla in AUgust 2018 K20 image by Ramakrishna Math and Ramakrishna Mission Belur Math (Public Domain Mark 1.0)
Image Reference: https://www.flickr.com/photos/belurmath/43581769724/in/album-72157700350937294/
What's new at WeRIndia.com