Sabarimala under thick security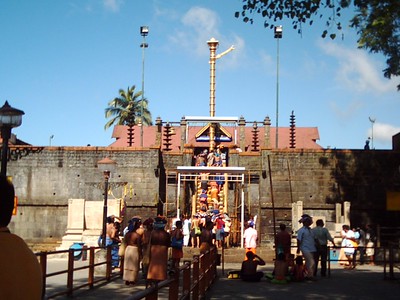 Earlier, the Supreme Court gave its verdict on allowing woman in the age of menstruation to enter Sabarimala temple. After that, some women tried to go to Sabarimala.
But, they could not succeed as several protestors attacked them in the middle and sent back even though the police escorted them. The protestors even attacked women journalists and media vans.
Since it is a sensitive issue, handling the situation between the devotes and the protestors remained a big challenge to the police and security personnel.
Now, again yesterday evening, the temple was opened for public for two days under tight security. A special puja performed at the temple for which several devotees are being attended.
Several Hindu organizations are protesting the verdict of Apex Court.
While the government says that it would help implementing the court orders, the actual situation is different.
In order to provide security to the devotees and for their smooth darshan, approximately 2,300 personnel, including a 20-member commando team and 100 women personnel have been deployed at Sabarimala.
15 women police aged above 50 have been deployed at 'Sannidhanam' (temple complex). This is the first time in the history of temple that women police have been recruited to guard.
All the security personal are watching the temple complex keenly. They are being alert on monitoring suspicious activities.
Many devotees were waiting for more than 12 hours to reach Sabarimala from Erumeli. They were not allowed to leave for Pamba and Sannidhanam.
As per the DGP, there are no restrictions on the media persons. Yet, Section 144 of the CrPc is being implemented to ban the assembly of four or more persons for 72 hours staring from Saturday midnight.
Yet, protestors gathered at Nilakkal base camp as they did earlier to send back the women of not permitted age.
Image credit: Sabarimala image by Vinodh Pullot Chandrasekharan is licensed under CC BY 2.0
Image Reference: https://www.flickr.com/photos/vinodhpc/1371408646
What's new at WeRIndia.com