PM releases ₹100 coin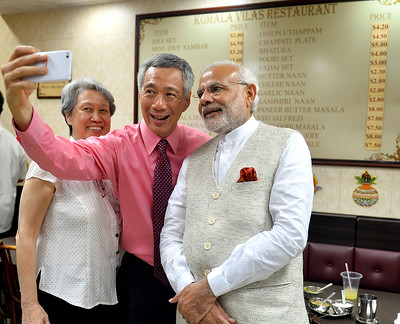 In order to commemorate the former Prime Minister Atal Bihari Vajpayee, Prime Minister Narendra Modi released ₹100 coin.
Today is the 94th birth anniversary of Atal Bihari Vajpayee and the coin was released one day before his birth anniversary.
The commemorative coin has the Emblem of India on the front face. The words 'Satyamev Jayate' are inscribed below the Lion Capital of Ashoka Pillar in Devanagri script.
The coin's value ₹100 was also inscribed below the national emblem.
The coin has the inscription of words 'Bharat' in Devanagri and 'India' in Roman script on both sides of the Emblem.
A portrait of Atal Bihar Vajpayee and his name is inscribed on the other side of the coin in both Devanagari and Roman script.
Below the portrait of Vajpayee, the years 1924 and 2018 were inscribed to represent his year of birth and death respectively.
The birth anniversary of Vajpayee is also being celebrated as Good Governance day.
The coin weighs 35 grams and is made of silver, copper, nickel and zinc.
PM the service of Vajpayee while releasing the coin lauded. He said that Vajpayee was not hungry for power and he was respected across all sections of the society.
PM also acclaimed that Vajpayee was one of the best orators that the country ever produced.
Several BJP leaders and ministers participated in the event including Arun Jaitley, Mahesh Sharma, Amit Shah, Sumitra Mahajan and LK Advani.
The Parliament's portrait committee chaired by Lok Sabha Speaker Sumitra Mahajan in a meeting unanimously decided to install the portrait of the former PM.
As per the decision, his life-size portrait would be installed in the Central Hall of Parliament.
Vajpayee would be the second leader from the BJP to feature in a portrait in Parliament's Central Hall, while the first is Syama Prasad Mukherjee.
Image credit:  PM Narendra Modi with PM Lee Hsien Loong of Singapore image by Narendra Modi is licensed under CC BY-SA 2.0
Image Reference: https://www.flickr.com/photos/narendramodiofficial/23526312170
What's new at WeRIndia.com