Noida Metro allows hosting a party inside coaches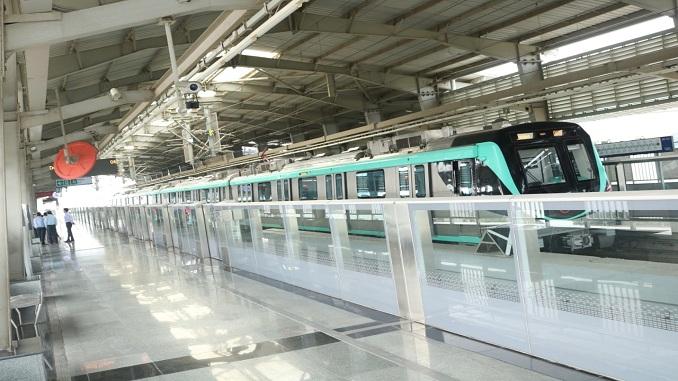 Celebrating birthdays, wedding anniversaries or special events at restaurants is common. But, if you want to celebrate your special occasion differently, then celebrate it inside a metro coach.
The Noida Metro Rail Corporation (NMRC) is going to inaugurate the facility soon. It will allow people to book Metro coaches for various celebrations like birthdays.
The facility will only be available on the Aqua Line of Noida Metro. So, only the coaches on this line will be available for the celebrations.
Initially, the NMRC planned to launch the facility in 2020, but due to the pandemic, it got delayed.
Now, due to the decrease in the number of COVID-19 cases, NMRC decided to kickstart it soon.
It also posted a recruitment notice to hire an event management company for this. The last date is April 29 to apply for it.
Here are some important points to know about booking a Metro coach for your celebrations:
Metro coaches can be booked for birthdays, anniversary celebrations, and pre-wedding shoots. Those who want to shoot ad films, documentaries and films can also book these coaches.
One can book a maximum of four coaches of any one station on the Aqua Line. A maximum of 50 people will be allowed per coach, including children and adults.
You can decorate the coach with flowers and banners, but candles, sprays and other flammables are not allowed. However, lighting candles for birthdays will be allowed only under the supervision of NMRC Staff.
Regular Metro coaches will be available during operational hours. Static Metro coaches will be available during operational and non-operational hours. If anyone wants to book during non-operational hours, they can book only between 11 p.m. and 2 a.m.
Charges per hour are as follows:
For a regular decorated coach in running metro, the cost is ₹10,000, while the undecorated coach costs ₹8,000. Similarly, the decorated coach in static metro costs ₹7,000, while ₹5,000 is charged for an undecorated coach.
Image Credit: Unknown author / CC BY-SA 4.0, via Wikimedia Commons
Source: https://twitter.com/railanalysis/status/1394924816814149634
Image Reference: https://commons.wikimedia.org/wiki/File:E1vEP_eVoAYruOu.jpg
What's new at WeRIndia.com