India-US defense alliance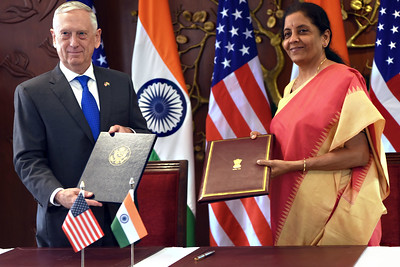 On Tuesday, Nirmala Sitharaman, the Indian Minister of Defense, discussed the issue of terror safe havens with the American Secretary of Defense, James Mattis. Mattis is the first member of the American Cabinet under President Donald Trump to pay a visit to India.
Both of them came to the conclusion that these terror safe havens should not be tolerated. The two of them especially discussed India's neighbor Pakistan, which has been known to harbor and provide safe havens for terrorists.
Sitharaman commented to Mattis that Pakistani terrorists have not only affected India, but they have also affected America as well. She mentioned how Pakistan was the country which harbored the terrorists that toppled the Two Towers in 2001.
Sitharaman additionally advised Mattis to raise the issue of terror safe havens and cross-border terrorism with Pakistani leaders, if and when Mattis pays a visit to Pakistan. Mattis also had comments of his own to make on the matter.
He conveyed that the threat of terrorism is felt by people all around the world.
Both the United States and India have suffered losses due to terror attacks, and Mattis assured that the two countries would henceforth be working closely together to work to eradicate terrorism.
About two months before Mattis's visit to India, President Donald Trump had said that India must play a bigger role in Afghanistan's path to peace.
Mattis acknowledged and commended India's contributions in his conversation with Sitharaman on Tuesday. Sitharaman said that India will continue to provide developmental assistance to Afghanistan.
However, she also said that India will not be providing any troops to Afghanistan, but they will keep providing assistance in other areas.
The threat of global terror has been hanging over the world for many years, but with strong unity to oppose it, terrorism may indeed be eradicated before long.
Image credit: 180906-D-BN624-0014 image by U.S. Secretary of Defense is licensed under CC BY 2.0
Image Reference: https://www.flickr.com/photos/secdef/43692997845
Recent Posts

Pay your loans, credit card bills, and other

PotHoleRaja developed GridMats technology and patented it.

To help farmers improve the shelf-life of their
What's new at WeRIndia.com