Best Travel Tips to The Indian Paradise- Leh-Ladakh in 2021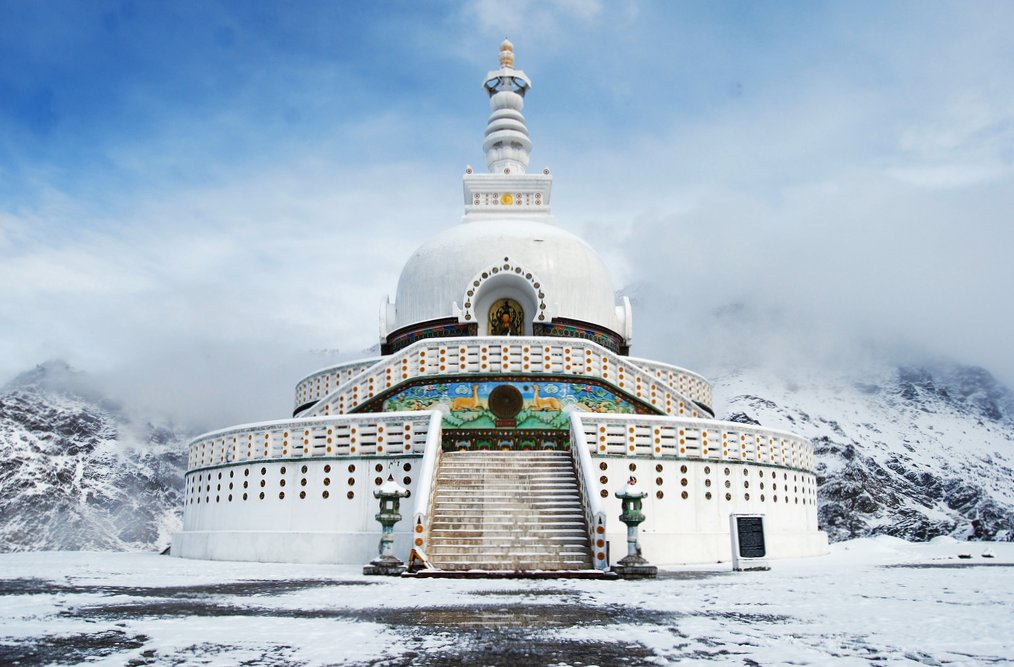 Everyone who has a passion for traveling across the globe always keeps a to-do list in which Leh Ladakh is one of the most fantasized destinations. People who admire nature, beautiful landscapes, varying cultures amidst adventure rides across mountains travel to Leh several times in a lifetime. Although you can drive your wheels to this picturesque place during the summer season, September is the best month when Leh sees tourists at its peak. Some prefer tour packages, while most are excited to take personal bike rides from the heart of Himachal, Manali. 7-10 days are enough to explore unparalleled scenic views. Before you head towards the most destined places, it is best to have a planned itinerary in hand. Once you know what spots you wish to discover, the most important concern is your stay. Many good hotel booking options offer an array of Ladakh holiday stays with excellent deals. Whether planning a solo or group expedition, you can get secure and comfortable accommodation for all types of travelers. The hotels may vary from simple, affordable single rooms to more luxurious suites ranging from 1000 to 15000 INR or more. The essentials like free Wifi, parking, TV, and restaurants are provided in most hotels. The curated list of top-rated hotels is tried and tested by most travelers.
The economy of the Ladakh region is significantly based on tourism. That is why the historical capital, Leh, is superabounded in Hotels, resorts, palaces, guest houses, homestays, and taxis. There are around 250 hotels of different standards in Leh. This post will collate the best travel tips to Leh- Ladakh as shared by some recent backpackers and locals. Then, we will cover all the necessary recommendations for a hassle-free trip to Leh in 2021.
.
Keep important documents
Since the Covid pandemic hit hard the lives of many, the government made sure that people driving from anywhere outside the region should carry a negative RT-PCR report within 72 hours. Apart from this guideline, tourists need to bring essential documents like:
Identity proof: Aadhaar Card, Voter ID, driving license, or Passport
Hard copy or e-voucher of hotel confirmation, flight ticket (if traveling by air), itinerary
Keep a map of Ladakh if self-driving. Online navigation may not work at some points.
Get a medical prescription for AMS (Acute mountain sickness) to prevent any medical emergency.
Understand the best time to visit
Usually, budget travelers decide to go during a peak-off season. But otherwise, the crisp summers are the best time to visit Leh. Since the highest altitude ranges of the Himalayas in India fall in Ladakh, you can be blown away by the winter-type desert temperature. Though you can sense chilly wind all the time of the day in this area throughout the year, it is pretty pleasant from April to June (daytime temperature below 25-degrees Celsius drops to 15-degrees during the night). But you still have to bring warm jackets and sweaters then as well. You will enjoy the sunshine, the river streams, glaciers, trekking through mountain trails, gigantic valleys. The weather generally reaches below freezing point after November.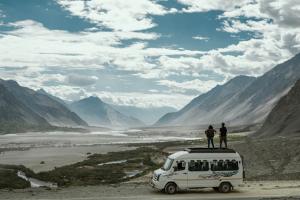 Book accommodation in advance
Last-minute booking or expecting standard rooms on arrival may land you in trouble since budget-friendly options are primarily in and around Leh. And it is quite understood that hotels are pre-booked during the peak tourist season. In addition, the non-tourist snow-capped season is also welcoming people who are darn snow beauty admirers. It would be better to book hotels in advance during the peak season. The non-peak seasons are snowy. Yet, many tourists wish to see the snow beauty of the Himalayas during winter. You may not find an opulent stay in Ladakh. However, a formal living with an HVAC system, a TV, and hot bath facilities is likely. So, do not risk your stay in extreme temperature regions like Leh. Most wanderers choose hotel rooms with mountain views from the balcony or windows.
Manage your luggage space
Remember you are traversing through the Himalayan desert, around 10,000-ft to 23,000-ft above sea level. So, smart packing is crucial too. You may not find any shops on the way to Ladakh from LehKeep the following list in mind and start packing your luggage items:
Few summer wear with more woolen clothing like warmers, jackets, and shawls
Additional warm accessories like socks, hand gloves, and mufflers
A good and comfortable pair of shoes or boots
Emergency light, portable gas stove, kettle (optional); essential if traveling without a guided tour package.
Fine camera
Ready to eat food
First aid kit and medications if suggested by your physician.
Toiletry kit
Buy a good quantity of fuel for your motor vehicle during the journey (if self-driving) at the last petrol station before Leh at Tandi Village.
We wish you an incredible journey and moments of breathtaking views.
Image Credit:- Vinay Goyal, Ludhiana, CC BY-SA 4.0, via Wikimedia Commons
Image Reference: https://commons.wikimedia.org/wiki/File:Shanti_Stupa_(_Winters).jpg
What's new at WeRIndia.com