Health Benefits of Harsingar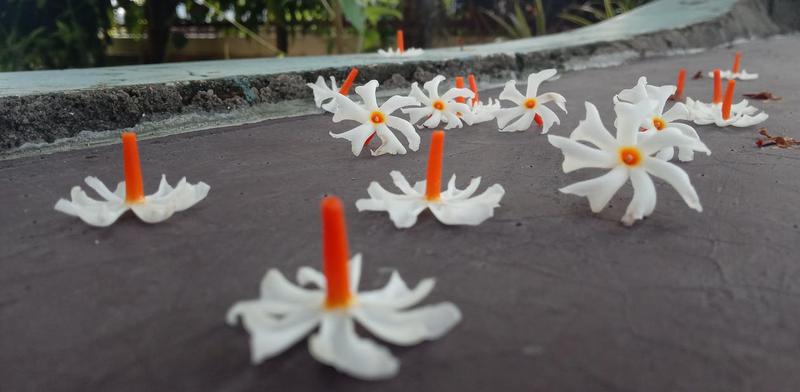 Harsingar or Shefali is an ornamental plant which has medicinal values. It is also known as Parijat. It has many health benefits.
Its leaves, flowers, bark, and seeds contain medicinal values. Hence, it is widely used in alternative medicine.
The leaves of Harsingar contain glucose, fructose, carotene, benzoic acid, ascorbic acid, and flavanol glycosides. The flowers are loaded with glycosides and essential oils. The seeds contain palmitic, oleic, and myristic acids. The bark has glycosides and alkaloids.
Harsingar can be used as a decoction. It can be mixed with other herbs as well. Or it can be used in the crude form.
The extracts of Harsingar is useful in relieving cough and bronchial problems. These extracts have antibacterial, antiviral and antifungal properties.
Here is a list of health benefits of Harsingar:
Regular consumption of Harsingar decoction helps relieve

arthritis

. It also helps treat Malaria, Dengue, and Chikungunya.
Consumption of powder ofHarsingar's bark with betel leaves helps cure respiratory illness. Consume a teaspoon powder twice daily to kill stomach worms.
It works as a laxative. It helps deal with constipation. It improves the function of the digestive system. It prevents gas.
Harsingar eases the

symptoms of asthma

. It protects from free radicals and prevents oxidative stress.
Massage with the essential oil extracted from the flowers can relieve the body from pains and aches. It also refreshes the body.
Harsingar is beneficial for treating lice and dandruff. It eases the symptoms of vertigo, anxiety and acidity. It relieves menstrual cramps. It treats sciatica and hypertension.
However, it should be consumed in moderate amount. Harsingar tastes bitter. People who are sensitive to taste can experience nausea. Hence, they can avoid consuming it.
Photo by Arpita Ghosh Dastidar from Pexels (Free for commercial use)
Image Reference: https://www.pexels.com/photo/night-flowering-jasmine-2479070/
What's new at WeRIndia.com