Top Short-Term Career Training Programs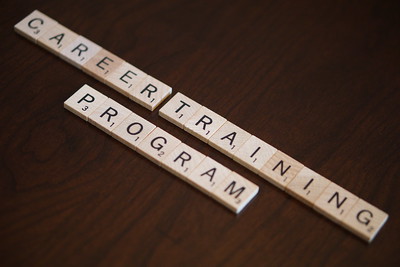 Completing a short-term job training program can be the ideal ticket for you to access to a rewarding career field. There are a surprising number of fields you can enter without completing long degree programs.
Here's a list of the top short-term career training programs to consider when you need to qualify quickly for a new occupation.
1. Certified Nursing Assistants (CNAs) 
CNAs are in high demand given the increasing needs of a maturing population for medical support.
CNAs work in nursing homes, assisted living facilities, hospitals, private homes and residential treatment centres. They support the medical efforts of the professional nursing staff by observing and reporting changes in vital signs and the health status of patients.
CNAs help patients to negotiate their daily activities such as eating, dressing, and bathing. Training programs are offered by the Red Cross, hospitals, community colleges, and online. Most programs can be completed in four to six weeks and require at least 75 hours of on-site training. Some hospitals and nursing homes offer free training programs to candidates who make a commitment to work for their organization.
 2. Commercial Drivers 
Commercial drivers transport goods and materials in trailers or other large capacity vehicles. Contact the division of motor vehicles in your state for the exact requirements in your area for obtaining a commercial license.
You will be required to complete a written test as well as a road test. Commercial driving schools abound. Consult with your local DMV website or office generally last for two to six weeks. for a list of reputable schools in your area. Training programs Learn more about a career in truck driving.
3. Emergency Medical Technicians (EMTs) 
EMTs are the first point of contact for people who are injured or suddenly become ill. EMTs intervene to provide medical assistance and stabilize injured or ill persons prior to treatment by physicians and then transport patients to hospitals for care. The Bureau of Labor Statistics expects job prospects for EMTs to expand much faster than for the average occupation due to the aging population and attendant strokes, falls, heart attacks and other emergency conditions.
The basic level EMT requires 100 hours of training.
The Intermediate or advanced level EMT certification entails about 1000 hours of training. Candidates must pass a national qualifying exam as well as complete an approved training program to qualify for all levels of EMT practice. Licensing requirements vary by state. Search the state department of health in your area with a query that includes "accredited EMT training programs.".
 4. Hairdressers
Hairdresser cleanser, trim, shading, fix, twist, and treat the hair of customers.
Training programs are most commonly nine to ten months in length with states requiring about 1000-1600 hours for licensing.
States require stylists to complete a written exam and sometimes a practical skills exam to qualify for a license. Search by the name of your state and keywords "approved cosmetology schools" to obtain a list of schools in your area.
5. Massage Therapists 
Massage therapists manipulate muscles and the soft tissue of clients to relieve pain, reduce stress, and increase relaxation. They advise clients about ways to reduce stress and muscular tension and achieve greater relaxation. Massage therapists work in private practice, with chiropractors, and in hospitals, spas, and fitness centers.
Most states license massage therapists and require completion of an accredited program, usually a year or so in length, with at least 500 hours of study. Search by the name of your state and keywords "approved massage therapy schools" to obtain a list of schools in your area.
6. Personal Trainers or Fitness Coaches
Fitness coaches plan and deliver fitness programs for clients. They create schedule to enhance the oxygen consuming molding, adaptability and solid quality of their customers. Mentors must elevate their administrations to imminent customers in a continuous way to keep up a practical wage.
Personal trainers work in private homes of clients, community-based gyms/fitness facilities, and corporate or resort fitness centres. Certifying bodies require candidates to complete a written exam and in some cases a skills test.
Candidates typically complete either online courses lasting six to twelve weeks or training programs lasting about 6 months. Search "personal trainer courses" and your location to identify some training programs in your area.  Ask local personal trainers for recommendations regarding the best programs.
7. Physical Therapy Aides
Physical therapy aides provide support to physical therapists and physical therapy assistants. They help to arrange equipment and prepare patients for procedures. Physical therapy aides greet patients and schedule appointments. Physical therapy aides help patients in and out of treatment areas. They reinforce treatment protocols after therapists have initiated interventions with clients. Most physical therapy aides are trained on the job for three to twelve months.
8. Sales Trainees
Sales trainees engage customers and encourage them to purchase products or services. Candidates with strong verbal and interpersonal skills can often convince employers to hire them without any direct sales experience. Make sure you demonstrate drive and assertiveness in your approach to the employer.
Conduct informational interviews with salespeople and other staff at target companies to showcase your communication skills. Many organizations have on the job training programs to educate trainees about their products and sales strategies.
Image credit: Patient Care Technician / CC BY 2.0
Image Reference: https://www.flickr.com/photos/128733321@N05/16934949836/
What's new at WeRIndia.com