Woman born with no hands gets driving license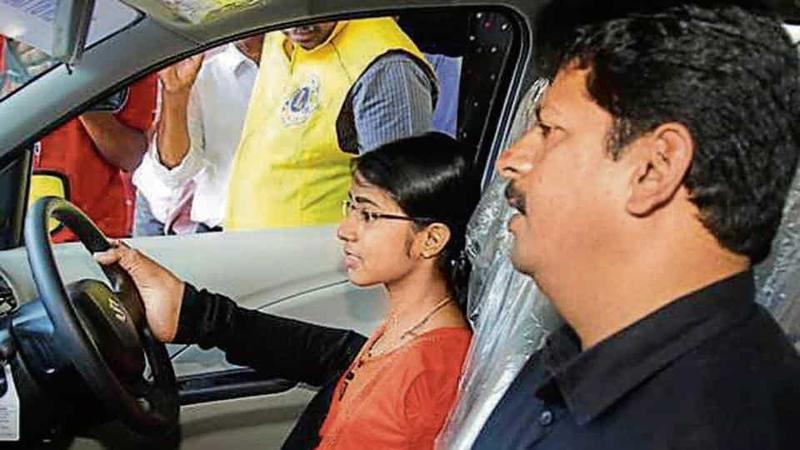 Perseverance never fails. This was again proven in this woman's case.
26-year old Jilumol Mariet Thomas from Kerala was born without hands due to genetic reasons.
The sad part is that prosthetic limbs cannot be equipped with her condition.
Her parents used to say that her legs are her hands. She trained to write, paint and do everything with her legs.
Yet, she faced several challenges for being born without hands.
Some schools denied to admit her. She joined in a local school. She learned painting, photography and computer while studying in the school.
Later, she learned graphic designing. Some employers rejected to give her a job.
But, one company had given her a job with decent salary.
At that time, she wanted to learn car driving. She succeeded even in that.
Then her troubles began. She wanted to buy a car for which she needed a driving license.
When she approached a local Regional Transport Office, they denied her granting a driving license saying that she has no hands and there was no provision for driving with legs under the Motor Vehicles Act.
Wherever she went, she was given the same stereotype answer with which she was vexed.
She then wanted to fight against them.
She approached the Kerala high court as a last resort.
She battled there for more than a year.
After reviewing her track record and video footages, the high court finally directed the Regional Transport Officer to accept her application for learner's licence.
She is very happy with the court's direction saying that her dream was fulfilled.
She received contributions to buy a car from her friends and well-wishers.
Thomas says that except a man who drives vehicles with his legs in Indore, she did not come across anybody doing that in the country. And there is no single woman driving with her legs anywhere in the country.
Furthermore, she is the first to receive a licence for driving with legs in the country.
Image Reference: Hindustantimes
What's new at WeRIndia.com