School teacher that changed a village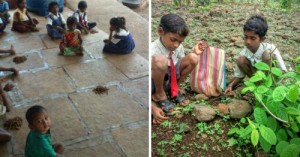 Education makes the world a better place. This has been proved once again. Lonewadi, a small village in Yavatmal district of Maharashtra is just another typical village. There wasn't any proper education here and the school is just makeshift.
In this makeshift school (vastishala) Mr. Ingle was appointed as the first teacher. He turned the vastishala into a proper primary school and then one more teacher was needed. No one expected that another teacher would bother teaching at a small primary school in a small village. However, there was one teacher who insisted that the authorities transfer him to this village. He joined the primary school at Lonewadi in December 2005. He was exactly what the village needed.
His name is Parsharam Narwade. Where most other government school teachers just tell the students about what is on the book, he wanted his students to learn and not just prepare for exams. He wanted to give wisdom along with knowledge to his students. He wanted to make each and every student in the village grow up to be a responsible citizen of the country.
Narwade started with the basics. He taught the children about the importance of nature in his first lessons. Later he would take his students for 2 km long walks through the jungle like field trips. However, these trips would be about importance of preserving and growing forests.
Children would collecting seeds of neem and tamarind trees in these trips. The kid who collected the maximum number of seeds would be rewarded. The kids also learned math with this quickly.
These seeds would then be planted by the children under the Narwade's guidance. They would be planted inside the bushes that grow near big trees so they get support they need to grow. Narwade and students also made nests for the birds and placed water pots for them.
With the help of Narwade who worked with the NGO Shivprabha Charitable Trust, the village now has paved roads, a solar operated water distribution system and electricity.
Image Reference: TheBetterIndia
Opinion Polls

Loading ...
Recent Posts

Dry Neeli Gulmohar flower and make a fine

There are many odd political parties like Sabsi

Goa Chief Minister Manohar Parrikar demised at the
What's new at WeRIndia.com