No arms, No legs, No Problem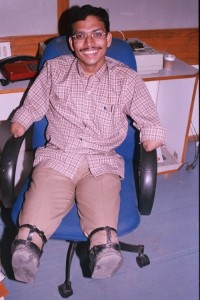 Almost all of us express something about our problems. Can you think of how a person without forearms and forelegs would feel? Meet Raja Mahendra Pratap, who refuses to drop his happiness and smile despite losing his forearms and forelegs at the age of 5. Due to a childish dare, Pratap has lost his limbs at the age of 5. Since that day, he was not allowed to go out of home for ten years. Now he lives a comfortable life with a great job and MBA degree.
Pratap does all his daily chores efficiently. He combs his hair, locks his door and goes to his office on a regular day. He does not complain even when the elevator is non-functional and climbs the stairs enthusiastically.
Pratap is from Hyderabad, Telangana. When he was five years old, his friends dared him to hold an iron rod into an electric wire. Pratap accepted the dare and within seconds of holding the Iron rod, his legs and hands were amputated. Ever since that day till he reached the age of 16, he was confined to his house. His father was embarrassed to introduce him to guests. He could not attend school from age 6 to 16. Even when he was sick a doctor would come to visit him and a tailor would visit his house when he needed new clothes.
He is used to crawl on the floor to move and gradually learned to walk. He learned to lift things with his mouth and ankle. At present, he can efficiently use a computer with the help of his mouth and ankle. He had special shoes made for his daily needs. With such ways, he became an inspiration to many people.
What's new at WeRIndia.com