He can't see but blazes a trail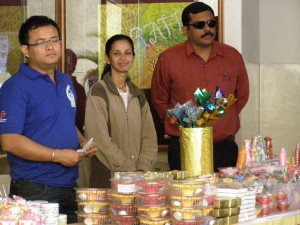 When he turned 20, Bhavesh Bhatia suddenly lost his eyesight. But instead of lamenting his fate, he just decided to learn candle-making and illuminate his environment. Today, he runs a huge candle manufacturing enterprise that employs hundreds, with clients across the world.
He was born in Anjar village of Gujarat. With his family, he shifted to Mahabaleshwar, when a severe earthquake hit Gujarat in 1956. By his early 20s, he lost his eyesight due to retina macular degeneration. Though he was a telephone operator at a hotel in the city, his fading eyes made him drop his job, even though he was poor. He could not afford to loaf at home. Hence, he pursued a candle-making course at the National Institute of Blind in 1999, after which he sold some of his products on a 2×2 roadside table.
Since then, he has been on a rise. What started as a small step to earn a basic livelihood has now transformed into an enterprise called Sunrise Candles, which manufactures over 9,700 designs of candles and provides employment to 225 visually impaired people.
He not only sells candles, but also trains and empowers the blind. Neeta, a tourist to Mahableshwar became so impressed with him that she asked him to marry her. Bhatia was "so moved and happy," he said. Since then, she has played a key role in making Sunrise candles popular.
The entrepreneurs use 9 type of waxes to make various candles. Bhatia also claims that they are probably the first to use wax from the honeybee combs in Mahabaleshwar. Their candles are eco-friendly and do not use artificial colours or fragrances, but employ natural scents like mogra and rajnigandha. Their candles are also smoke-free.
Bhatia initially started with 10 kgs of wax. Now even 200 tons of wax per month is not adequate to meet his requirements. Sunrise candles, with immense dedication and skill, has reached a scale in which it delivers candles to clients as big as Reliance and Big Bazaar. They have even managed to build a network of permanent clients across the globe.
Bhatia has some awesome national sports successes to his credit. He is a Paralympics champion, with 109 medals under his name in shot put. He is also a trekker and runner, and is currently preparing for the 2016 Paralympics Games in Brazil.
Connect with him if you want to at info@sunrisecandles.in
What's new at WeRIndia.com