Adopting 12 HIV+ kids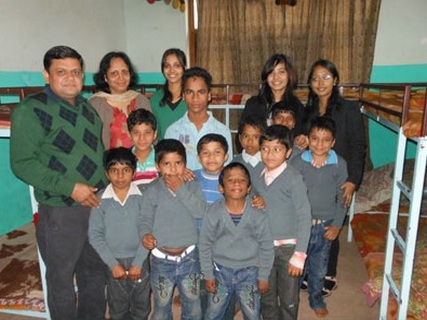 In Meerut, 12 HIV positive boys got a new lease of life when a young couple adopted them. Ajay Sharma and his wife, Anju Prakash, took a different view of life in order to help people. They have adopted 12 children who have been discarded by parents. In Ganganagar locality, Meerut, "the house of many children" is well known.
It all began with Ajay Sharma in 2004. He suffered suffered a brain hemorrhage and fell into coma for 15 days. A close encounter with death made him understand the importance of helping children. He gave up a job at the Government Inter College, Phalawada, and began teaching children in the slums.
Four years later, in 2008, Sharma came across an HIV positive child whose parents had passed away and relatives had abandoned him. The child was severely weak and about to collapse. Sharma tried his best to get him into a hospital, but no one admitted him. Finally, he got him home and nursed him back to life. He went on to take in more boys with AIDS.
Ajay Sharma's goal is to continue his campaign and buy a bigger house to shelter at least 50 children. Initially, he could not even get a rented house. His neighbours were afraid that he would spread AIDS, but now they have begun to accept them.
Although the government gives no help, the Sharmas hope to raise them with special effort. Society has started accepting and helping the children.
Sharma dotes on them. "I have a dozen sons and each one of them is precious to me," is his conclusion.
What's new at WeRIndia.com