8th grade student making her campus greener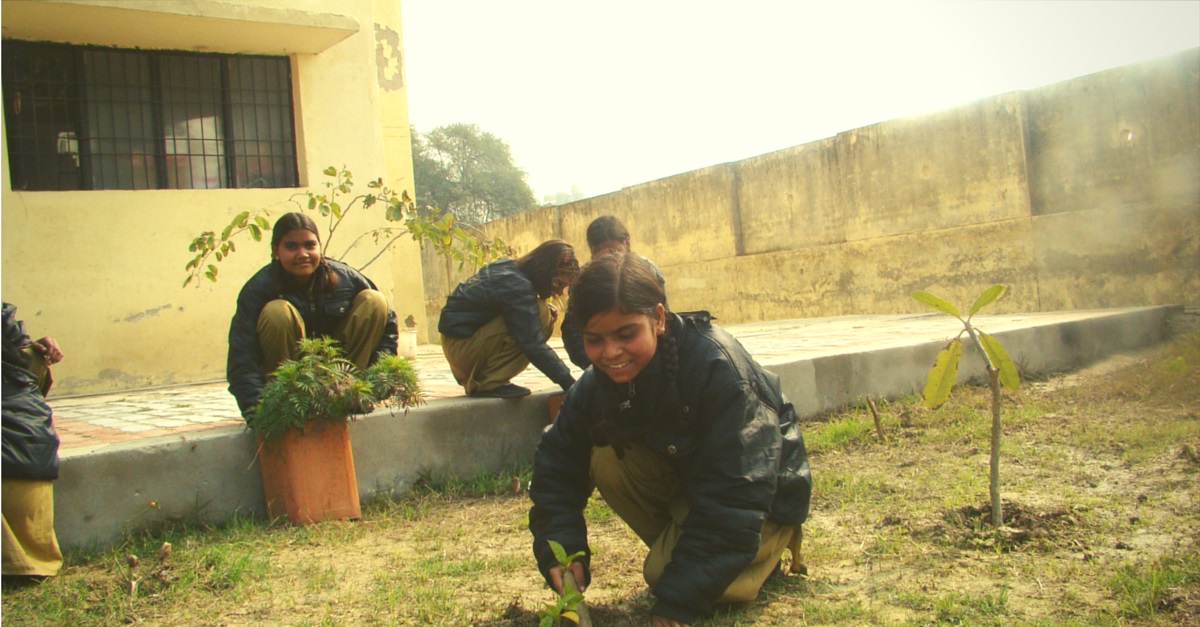 Meet this 8th grade student who made her school campus greener. She also inspired other students to do composting and tree plantation. Read on to find out more about Prachi, the girl who did this.
KGBV schools are residential schools with an objective to confirm quality education for the drop out girls of underclass families of our society.
Her school shifted to a new building at Nandpur, Chinhut (Lucknow) in 2013. The ground at the new school was packed with weeds like Parthenium (gajar ghas) at everyplace. Also, there was accumulation of water because the ground was at a lower level, this made the land wet and not possible to walk.
This ground was haunted by numerous animals, insects, vermin and snakes. KGBV students didn't have an area to play as the Parthenium causes rashes to the skins of students who came into contact.
Prachi set out to make her school ground green and give the students an area to play. In order to do that, she created a gang of twenty five students. To induce more students in her project, she conferred a skit. Prachi, together with the students, disbursed a cleanliness drive and removed all the weeds from the bottom during a week's time.
The school ground had Usar soil and due to waterlogging it absolutely was laborious to plant saplings in it. To form a fertile prime layer, recent soil was added with the assistance of their warden as they're not allowed to travel out of the school campus.
Image Reference: Thebetterindia
Recent Posts

Amla Magic: 8 Ways Indian gooseberry transforms your hair

Here are 8 effective ways to incorporate Amla into your hair care routine.

BJP's Ishwar Sahu, a riot victim, triumphs in Chhattisgarh's Saja constituency

During the election campaign, Ishwar Sahu did not shy away from addressing the tragic events.

Bhopal's Sankat Mochan Hanuman temple dresses Gods in warm attire

In a unique and heartwarming gesture, the Sankat Mochan Hanuman Temple in Bhopal, Madhya Pradesh, has adorned idols of gods, including Lord Hanuman, Lord Ganesh, and Lord Shiva, with warm clothes to shield them from the cold winter air. A video capturing this thoughtful act shows the deities donning shawls and cozy attire inside the temple, reflecting a blend of spirituality and seasonal care.
What's new at WeRIndia.com