12-year Old indoor sky diver and Guinness World Record Holder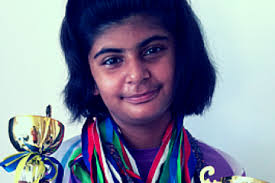 Poorva Joshi, a 12-year old Delhi-born girl is a good indoor sky diver. The girl who lives in Singapore is not a regular school goer, but jumps from skies and shoots with guns. She is studying eighth grade and following four sports meticulously. They are: indoor skydiving, fencing, 10m rifle shooting and athletics.
She developed a passion for sports. She loves indoor sky diving in which she won a Guinness World Record at the age of 10 years. The award is actually a group award and was given for most number of children inside a tunnel at the lowest wind speed. And she is one of the children in the tunnel. She has acquired three medals in 10m rifle shooting and 10 medals in fencing.
Poorva won a bronze medal when she was in India and had participated in the 4th Under-12 National Fencing Championship that was held in Nashik. She had also won a gold medal in the Under-14 Mixed team category in the Singapore Z-Fencing competition that was held in 2014. She claims that she has best score of 10m rifle shooting for women among children of her age globally. Normally children have a score of around 360 in this, but she has 385.7.
Poorva's father is a good support for her and he encouraged her a lot all the way in these sports. She wants to become a pilot or astronaut.
Image Reference: Thebetterindia
What's new at WeRIndia.com