PM Modi thanked two young women from Varanasi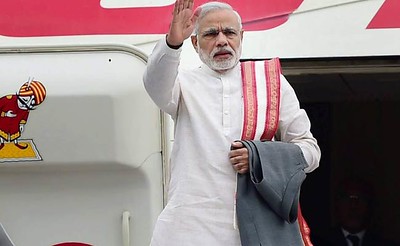 PM Narendra Modi has taken several initiatives. However, it is known that the Clean India Mission (Swacch Bharat Abhiyan) is his pet initiative. The mission has gone highly viral since the announcement.
Many celebrities worked for the mission by sweeping sections of streets after they have been chosen as brand ambassadors for the mission.
Even with so many celebrities on this mission, these two young women are getting praise from the PM.
Temsutula Imson and Darshika Shah, two young women from Varanasi took up the task of cleaning Prabhu Ghat, one of the dirtiest ghats in Varanasi, the constituency of the PM.
The PM tweeted his salute to the two women and called the job they did in cleaning the ghat phenomenal.
The #MissionPrabhughat was started in February by these two women after they took a boat ride in Ganga and could not bear the stench around the ghats. The hashtag has gained over 30 lakh tweets in the last one month.
"Was really SAD and DISGUSTING to see #Prabhughat which is not very far from #Assighat. It was an open Lavatory 4/n" tweeted Imsong. By Mid march, they have gathered few volunteers using social media. Using the hashtag, they kept posting updates of their progress. Their work is truly an inspiration to many Indians.
Image Credit:- "Wastewater samples" by Jhon Don is licensed under CC BY 2.0.
Image Reference: https://www.flickr.com/photos/146931246@N07/29542111756
Recent Posts

E-auto permits are issued phase-wise.

SBI's Multi-Currency Foreign Travel Card is a chip

Sunflower seeds boost immunity.
What's new at WeRIndia.com