Lesser known facts about Mirabai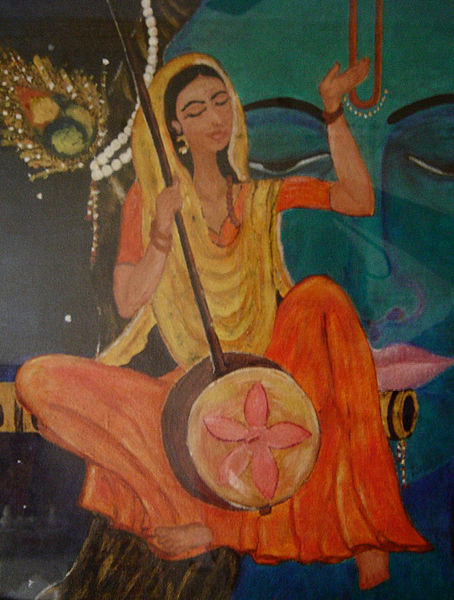 Mirabai was an avid devotee of Lord Sri Krishna. She thought Him as his husband. Do you know what is the reason for this?
Here are some lesser known facts about Mirabai:
Mirabai was born a princess. She was the granddaughter of Rao Dudaji, the third son of Rao Jodhaji who established the kingdom of Rathod Dynasty in Rajasthan.
She was raised by her grandfather as she lost her parents at an early age of 7 years.
Mirabai happened to see a wedding procession when she was five-years-old. She asked about it and then questioned about whom she would marry. Then, her mother showed the idol of Lord Sri Krishna and said that He was her bridegroom.
Since then Mirabai believed Lord Sri Krishna as her bridegroom. She considered Him as her beloved husband.
One day, a Sadhu visited their family with a beautiful little idol of Sri Krishna. She insisted on that idol and her grandfather requested the Sadhu to give it to her.
Mirabai was very beautiful. She was the darling to her grandfather, uncle and cousin. All the ministers, sadhus, elders and people liked her very much due to her good and kind behavior.
In those day marriages were made to strengthen the unity of the kingdoms. Mirabai did not want to marry any man except Lord Sri Krishna. Yet, she was married to Prince Kumar Bhojraj, the son of Rana Sangramsingh. Thus, with her marriage, the two most powerful kingdoms of the Rajputs were united.
As Mirabai considered herself already married with Lord Sri Krishna, she refused to let her husband touch her.
Due to this behavior, several attempts were made to kill her. She was given poison which showed no effect on her.
She spent her life in prayers and meditation of Lord Sri Krishna. She left for Vrindavan to reach Him.
After that, Rajputs lost their kingdom and realized their ill-treatment towards her.
At the age of 67 years, she reached the Abode of Sri Krishna.
Image credit :- Onef9day / CC BY
https://creativecommons.org/licenses/by/3.0/deed.en
Image Reference: https://commons.wikimedia.org/wiki/File:Meerabai_painting.jpg
Recent Posts

SBI launched the first floating ATM of the

MyGov two days ago announced that now DigiLocker

Watch the viral video in which six people
What's new at WeRIndia.com