Non decision on printing ₹2,000 currency note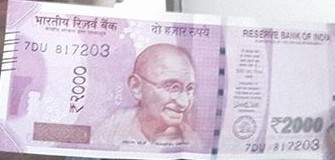 ₹2,000 currency note was introduced after the demonetization as part of massive remonetisation process.
The government imposed blanket ban on the currency notes of ₹500 and ₹1,000 and introduced new ₹500 currency note and ₹2,000 in their place.
Now more than 35 percent of currency notes in circulation are of ₹2,000. Hence, the government stopped printing these notes.
One of the top finance ministry officials informed that the printing of ₹2,000 note has been reduced to the "minimum" by the Reserve Bank.
However, Economic Affairs Secretary Subhash Chandra Garg said that no decision has been taken on printing ₹2,000 currency notes as the country has more than adequate number of these currency notes.
It was already decided at the time of printing ₹2,000 note that the printing would be "scaled down" going forward as the higher denomination note is mainly intended for remonetisation.
With this, it is clear that the government has no intention to print new currency notes of ₹2,000.
However, the currency notes that are in circulation are valid until the government withdraws them.
Several messages are rounding on social media saying that the government is banning the currency notes of ₹2,000 and they are not valid.
But, these messages are not true as the government has not given any official statement on banning these notes.
So, beware of the rumors that are spreading on social media and check their validity before believing them.
The RBI data reveals that there were 3,285 million currency notes of ₹2,000 in circulation by the end of March 2017.
The number slightly increased by the end of March 2018 with 3,363 million pieces of notes.
Yet, the percentage in circulation has been slashed to 37.3 percent in 2018 from 50.2 percent in 2017.
Image credit: 2000 Rupees Note image by Shalu Sharma is licensed under CC BY 2.0
Image Reference: https://www.flickr.com/photos/shalusharma/31104678776/
What's new at WeRIndia.com