Facts about new one-rupee currency note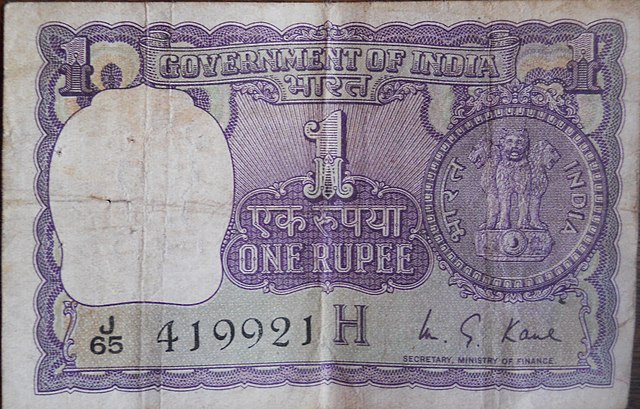 The Union Ministry of Finance issued a notification on 'Printing of One Rupee Currency Notes Rules, 2020'.
The Government of India will print ₹1 for circulation.
The one-rupee note was introduced by the British on November 30, 1917. The Government of India brought out the new design ₹1 note in 1949.
Here are some important facts about the new ₹1 currency note:
The new one-rupee note will be in pink green color on observe and reverse in combination with others. It will be rectangular with dimensions of 9.7 x 6.3 cm.
This currency note will have the bilingual signature of Atanu Chakraborty, Secretary, Ministry of Finance.
It will have 'Bharat Sarkar' on its masthead and 'Government of India' printed below instead of 'Bharatiya Reserve Bank' and 'Reserve Bank of India' which is printed on remaining currency notes.
The central government will issue the note instead of the RBI.
The watermarks of the ₹1 note to be included the Ashoka Pillar. It will have "1" and "Bharat". These hidden numeral and words are arranged vertically on the right-hand side.
It will have 'Satyamev Jayate' and capital inset letter 'L' in numbering panel.
The note will feature a replica of the ₹1 coin with ' ₹' symbol of 2020 and an image of the 'Sagar Samrat' oil exploration rig.
The ' ₹' symbol will have the design of grains to depict the predominance of the agricultural sector of the country.
The numbering shall be in ascending size of numerals from left to right. It shall be in black at the right-hand side at the bottom of the currency note.
The first three alphanumeric characters remain constant in size.
The new ₹1 note will cost the taxpayer 94 paise, while the ₹1 coin values 70 paise when melted.
Image Attribution: Reserve Bank of India / YVSREDDY / CC BY-SA 3.0
Image Reference: https://commons.wikimedia.org/wiki/File:Indian_One_Rupee_Note_(YS).JPG
Recent Posts

Amazon's first all-women delivery station in Andhra Pradesh

Codeine is used to treat pain.

Soluble fibre also helps reduce LDL cholesterol.
What's new at WeRIndia.com