Career Tips for students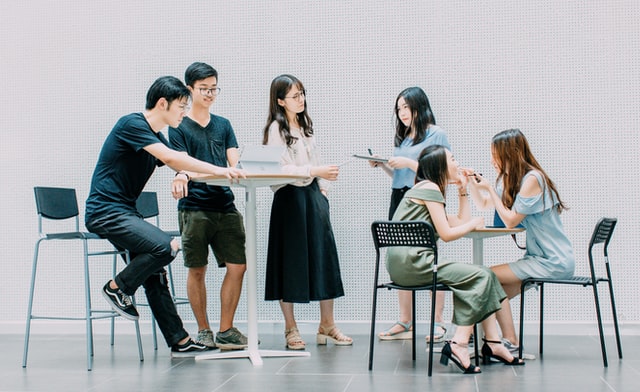 Where you will go in life is up to you. I never set a goal for me in my life. Even its good for our self if we have a goal. If we have a goal, we can make plan to achieve that goal. But everyone's life is not same, sometimes we need to manage everything with situations came in our life. When I was in school I want to became a teacher because that time my aim was my teacher I wanted to be like her in my life. childhood is a stage when we want like what we see what we like in our surroundings. I never thought about engineering. After school i joined engineering college. I chose that without any goal.
In college, my aim was to became a software engineer but professionally I am not a software engineer. It happened when we did not ask our self what we want to do in our life? or sometime we are not comfortable to sharing our thoughts with anyone.
We have an ideal person in our life but it's not possible to become as same as like them because we have some quality in us no other person has that. We need to find that quality inside us. Carefully pick the right degree and program. When you will achieve your aim, you will move for new dream. Success comes from inside of you. If you are self-aware, self-confident and self-disciplined you will go very far in life. So, keep learning everything from everywhere you can learn & think about yourself what are you doing, why you are doing, what you can do & what you want to do? Focus on your aim but keep an eye on yourself at present what are you doing and why?
Your first job is a period of adjustment. It's like being a freshman all over again. Be patient and learn the ropes. Think of your first job as a stepping-stone that can help you get closer to your Ideal Job. Don't wait for opportunities. Go out and hunt for them.
Get clarity and focus on the three types of jobs you will pursue:
1. Ideal Job:
The ideal job is the job where we get satisfaction in both professional and personal life.
2. Back-Up/Realistic Jobs:
Realistic Job Previews (RJP) are developed to provide the potential applicants a true picture of the different features of the job. It highlights not only the positive aspects, but also the associated hazards and problems. Benefits with realistic jobs are you already know about the employer expectations; their job tasks are exactly as described to them. This increases job satisfaction
3. Survival Jobs:
As per definition it's a low-end low-paying job that a displaced job-seeker takes on a temporary basis when unemployed to cover basic living costs to survive and avoid bankruptcy — or worse. You are out of work your benefits have expired and your savings are quickly being depleted. But here are some features in survival jobs that are Income, Productivity & Confidence.
Do not give up on finding the job you want. Before turning to bar tending, look for a survival job in your field — even if it means taking a major step down. Doing so will provide consistency and focus in your career and put you in the right place should opportunities arise within that company, Taylor says.
An employer doesn't care whether you're professionally fulfilled or not, they care about how productive you are.
Start building your resume early in your college career.
Don't wait until you get back from spring break of your Senior year.
Come up with your own personal and professional definition of success and don't let anyone else define it for you.
Here are some career tips for students which can help you to achieve your goal:
1. Take advantage of everything that college offer.
2. Stay focused and don't get distracted by Facebook or other social media sites by spending a lot time on that. Cut your addiction to the social sites. There are many other sites from where you can get knowledge to achieve your goal.
3. Eliminate poor grammar and slang from your speech.
4. Resist the temptation to use work time to conduct personal business like email, phone calls and combing the Internet.
5. If you perpetually smile and look people in the eyes you are likely to get the same in return.
6. Employers hire for attitude and train for knowledge. Enthusiasm is the road to success.
7. Your online reputation is your reputation. Create it, build it and protect it. Make sure do not mention anything which shows your reputation dirty.
8. Know when you need to work independently and know when you need to be a team player.
9. Keep your commitments.
10. Have a clear vision for your life. Set personal and professional goals every year and develop an action plan to achieve them.
11. Keep in mind that success is the first attempt after failure. We all have made mistakes. Learn from Mistakes.
12. You won't reach your career goals if you let someone else drive your career. Take suggestions, that can help you but make decision for yourself.
13. If you take your career seriously, others will take you seriously. If you care about others, others will care about you.
14. Think about the opportunities you are getting do not jump on that quickly. Think about that and make plan how it will help to achieve your goal.
15. Ask for help, but don't suck up too much of anyone's time.
These are some career tips for students which can help you to get your career goal closer OR to find your goal.
Photo by Akson on Unsplash (Free for commercial use)
Image Reference: https://unsplash.com/photos/1K8pIbIrhkQ
What's new at WeRIndia.com