7+ Trending MBA Streams by Top MBA Colleges in India come 2021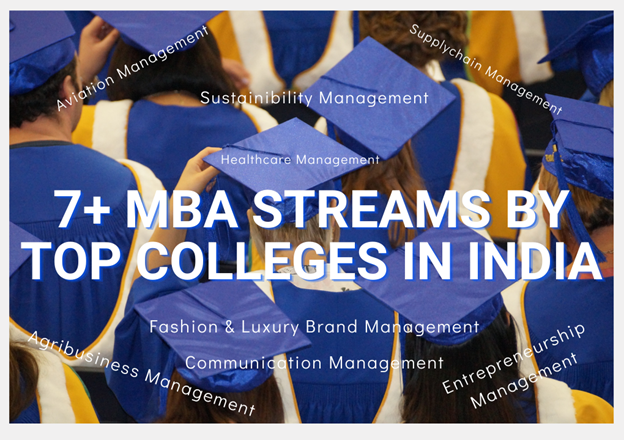 In the global arena, having a degree in management will let you be a part of the lucrative business sector. At present, students from all disciplines such as – science, commerce and humanities can study management from the top MBA colleges in India.
The best MBA colleges in India are coming up with a variety of specializations these days. There are nearly 50 management streams available in India for students to study. But here we have shortlisted 8 trending MBA streams in case you are planning to study management in future.
Rather than opting for the most common specialization; you must explore something new offered by the top MBA colleges in India.
Top MBA Colleges in India: 8 Trending MBA Streams in 2021
The list of the 10 trending MBA specializations offered by top MBA colleges in India are mentioned below.
Communication Management
Pursuing an MBA in Communication Management will enhance your interpersonal skills, communication, analytical thinking and creativity skills. There are different business organizations such as advertising, brand communication, public relations, media, and entertainment management, and others that look for professionals who have the relevant knowledge.
Learning this course will help you focus on learning brand management, advertising, media management, corporate communications, marketing research and analytics, and much more.
Some of the top MBA institutes in India that offer Communication Management or Media Management in India are-
Mudra Institute of Communication Arts, Ahmedabad (MICA)
Welingkar Institute of Management Development & Research
Fashion and Luxury Brand Management
With the growing number of fashion and luxury brands worldwide; there are endless opportunities for professionals who have completed management degrees in heritage, luxury brands, fashion goods, and many more. In case you have a creative mind, then you must look for this option.
Fashion brands look for creative minds who can use their innovation and intellect to grow a brand. Some of the top MBA colleges in India that offer Luxury Brand Management stream:
Indian Institute of Management (IIM), Ahmedabad
P Jain Institute of Management & Research
Pearl Academy of Fashion, New Delhi
Luxury Connect Business School, Gurugram
Agri-Business Management
Since the agricultural sector contributes ¼ to the nation's GDP; you can understand the importance of having an management degree in agri-business offered by the best MBA institutes in India. In the agriculture sector, experts can follow a scientific and systematic approach while creating new policies to manage this sector.
Agribusiness is the subdivision of business management that deals with making a profit from agriculture and corporate farming and how it can be used more productively. Students doing this course will get a chance to understand more about agricultural equipment and technologies, suppliers, raw materials, crop production, workforce, etc.
So pursuing an MBA degree in Agribusiness from the top MBA Colleges in India will offer golden opportunities to all the students across different areas like finance, production, and land management.
Some of the best management institutes in India from where MBA aspirants can do an agriculture management studies course include:
IIM Ahmedabad
IIM Lucknow
Welingkar Institute of Management
Symbiosis Institute of International Business, etc.
Sustainable Development Management
Earlier, sustainability management was considered only about government rules and regulations; but now its scope is expanding manifolds. Pursuing an MBA in Sustainable Development Management will help you stay involved in important business decisions that will be taken based on long-term business goals involving social impact as well.
An MBA in Sustainability Management will help students know more about industrial equipment management, how it can impact the environment, business ethics, and many more areas that ensure smoother growth. One can become a Sustainable Development Manager, Nature Conservation Officer, Environmental Manager, Energy manager, and Environmental Education Officer after passing from top MBA Colleges in India.
Colleges for Sustainable Development Management in India:
Indian Institute of Management (IIM), Lucknow
NITIE, Mumbai
Xavier School of Sustainability, Odisha
Tata Institute of Social Sciences, Mumbai
The Energy and Resource Institute (TERI), Delhi.
Supply Chain Management
Supply chain management deals with making particular goods or services accessible to the consumers. This domain deals with managing entire sourcing or procuring, distribution, warehousing and inventories management in a smoother way. Some of the reasons for increasing popularity of this MBA specialization include growth in e-commerce business, variety of products, etc. that further increase supply chain management' graduates.
Manufacturing, FMCG, healthcare, transportation, etc., are some of the popular industries which can offer a great start to your career.
Colleges for Supply Chain Management in India:
Symbiosis Institute of Management Studies, Pune
SP Jain Institute of Management and Research
IIFT, Delhi
Amity University, Noida, etc.
Aviation Management
The global Aviation Industry has grown phenomenally and is expected to grow further. With more than 350 airports across the country, the demand for the ones having detailed knowledge of aviation management and airlines enterprise management sector is growing manifolds.
Some of the career options after passing from top management schools in India; you can explore post completing your graduation include Operations Manager, Air Traffic Control Manager, Airport Manager, Ground / Flight Crew, etc.
Top MBA Colleges in India for Aviation Management:
Faculty of Management Studies, Delhi
IIM Calcutta and Indore
CMS Business School, Bangalore
Dr DY Patil University, Navi Mumbai, etc.
MBA Healthcare Management
With an increase in diseases and poor health, the healthcare management sector has witnessed tremendous growth. Healthcare sectors look for qualified professionals to manage diverse roles of leadership, management, administration in the Healthcare sector.
During this entire two year MBA course offered by top MBA colleges in India; the students will get a chance to enhance their leadership and innovative skills to be a part of the growing Health care sector.
Some of the job positions after completing this course from best MBA colleges in India, which you can consider post completing an MBA in this field include Hospital CEO, hospital CFO, Healthcare Information Manager, Medical Practice Manager, Hospital Administrator, and much more.
Colleges for Healthcare Management in India:
KJ Somaiya Institute of Management
Chitkara University
Acharya Bangalore B-School
Lovely Professional University
MBA Entrepreneurship
Master of Business Administration in Entrepreneurship is also a 2-year full-time PG program allowing students to pursue studies in the Management field. Doing this course will train students to become successful independent entrepreneurs and transform their ideas into successful businesses.
Some of the major job profiles considered by MBA graduates include Assistant Manager, Human Resource Manager, Business Consultants, Finance Controller, accountant, etc.
Top MBA Colleges in India for pursuing MBA Entrepreneurship:
Symbiosis International University
University Business School
Amity Business School
Chandigarh University
All the above-mentioned MBA streams are quite trending and offer excellent opportunities to MBA graduates. Rather than sticking to the most common management streams, don't be afraid to experiment and explore newer areas of study when there are many top MBA colleges in India offering these trending courses. Hope you liked our blogs, stay tuned to us for more information.
Image credit – https://pxhere.com/id/photo/599260 (CC by 0)
Image Reference: https://pxhere.com/id/photo/599260 (CC by 0)
Recent Posts

Yukti created an Instagram page, CaughtCraftHanded, for her

The purpose of PMASBY is to fill gaps

All regular female delivery partners of Swiggy can
What's new at WeRIndia.com