Why watch the Pro Kabaddi League?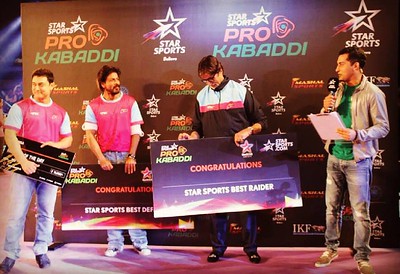 Kabaddi and Indians have years and years of connection between us. It is one of those outdoor sports which several of our previous generations have been playing, and as of now it has become a very rich culture of our nation. But, one of the sad things about this sport is that just till half a decade ago; it was not celebrated at a national level despite being a major sport of Asian games.
But, with the initiation of Pro Kabaddi League or PKL, things changed leaps and bounds. So, in this article, we are going to talk about why every Kabaddi fan should watch Pro Kabaddi league and how this national level tournament changed the future of Indian Kabaddi players.
How does it all start?
Kabaddi which is basically a rural sport of India, has now become a trend with the entrance of a professional league pattern by Pro Kabaddi League back in 2014. Since the very first season, this tournament becomes fan favorite and millions of viewers were entertained in the season 1.
Moreover, Season 2 of Pro Kabaddi league shattered a ton of worldwide records when it comes to viewership. About 22 million viewers were sitting in front of their TV sets on the opening night of the second season. This number is 10x the viewership of 2014 FIFA world cup opening match. As per a statistics report, about 435 million viewers were counted throughout the Pro Kabaddi League season 2.
What is special about the Pro Kabaddi League?
Just like Indian Premier League brings the excitement to the cricket fans, Pro Kabaddi League also brings in the joy of the same scale. There are a plethora of special factors that you can witness this sports league. Here are some of the factors which make PKL a must-watch league:
Big names:

one of the biggest factors that make PKL so special is that this league not only involves around local as well as national level players but also foreign players are also bought in by teams. You can read more about the same here!

Bollywood Glamour:

The presence of Bollywood celebs in Pro Kabaddi league is quite common. Abhishek Bachchan, who is the owner of Jaipur Pink Panthers, brought the charm of Bollywood Industry into this league. So, if you are a fan of Bollywood, then this is something for you to check out.

Nail Biting matches:

If you are looking for some sporting event that can let that adrenaline loose then Pro Kabaddi League is perfect for your taste. Matches are quick, entertaining, and even some bouts are legendary.

Ground-breaking records:

PKL has changed the presence of Kabaddi on a global level. Some of the records that are set in this league will give you jaw-drops. This is one of the reasons why PKL has a 200% growth rate in terms of Sponsorships.
These are some of the many reasons as to why you should check out the Pro Kabaddi league. Not to mention that It is a great way to support a rural sport of our Indian Culture.
Image Credit:– "12234964_556346861197439_3562112551435339361_n" by ArtistsFAQs .Com is licensed under CC BY 2.0.
Image Reference: https://www.flickr.com/photos/artistsfaqs/23446918135/
Recent Posts

Jaipur couple launched a startup, Flhexible, to sell

Watch the viral video in which a biker

Visarjan is the ritual of immersing the idol
What's new at WeRIndia.com