Tips to Get the Most Out of Your Trip to India With the Right Apps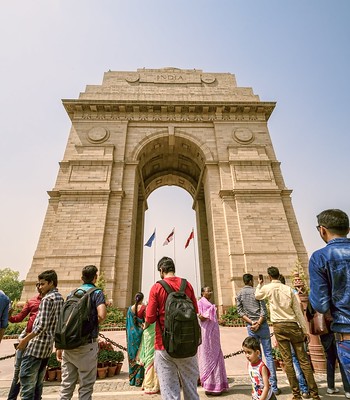 When you are embarking on your first trip to India, even before you head to the airport, there is some research and planning that should be done. Not only do you need to research the weather so you have the appropriate clothing, but you also need to find out what is acceptable culturally, what documents and medical attention you need before you go, and it would be wise to research the kind of experiences you should expect when you get there. Check out the link below to find some great apps that can help you with these and more.
Resources for Traveling to India
After checking out this great list of apps, come back and keep reading to get an idea of what you need before you leave.
Travel tips at your fingertips
Getting ready for your big adventure? Want to find clues on what to expect when traveling to India? There are so many apps that can help you find travel tips to travel in India, what to wear, what to plan for or common cultural considerations to keep in mind. A great resource would be to look up different travel India blogs to hear from people who have experience with traveling to India. If you're looking for off the beaten path restaurants, simple ways to get from the airport to your hotel, or where to find great souvenirs, these blogs will be a wealth of information for anything you're looking for that might not be in a guide book or travel brochure. If you know you want to fly into New Delhi, maybe you want to find out about things to remember while travelling to Delhi, like what neighborhood to stay in, or best museums or good words to learn in Hindi to help you get around easier. Apps and online blogs are a great source of information to help you prepare for your trip before you even start to pack your bags.
The formalities of traveling and checklists to keep you covered
So before we get to packing, there are other things to prepare before you leave. You can find an app that helps you create checklists pre-travel. You can download a traveling to India checklist which can help you decide what you need to buy, what paperwork or documents you might need and also helpful medical advice such as travelling to India vaccinations, which are advised or mandatory. There might also be certain visas, forms, or applications you need to submit before you enter or exit the country. It is important to research those and see what your country's or India's requirements are so you can be prepared. A travel to India from usa checklist might include basics like two color copies of your passport, copy of your vacation itinerary, vacation health insurance and details of the coverage, but you might also need a copy of an approved visa or accepted entrance document. Having checklists help you stay organized so you don't have any last minute stressors or help you come to India prepared in case unforeseen events occur.
What to pack, what not to, and keeping your suitcase organized
Now, let's get to the fun part and research what to pack. When planning a trip to India, you want to make sure you know about what is and is not appropriate to wear as a male or female in public places. Cultural standards and expectations is important to know when traveling to any country for the first time. You can find an app that allows you to create an India trip packing list that keeps your packing organized and make sure you don't leave important items out. Make sure you add conservative clothing that keep you covered, even if it's really warm when you are going, it is important to respect the standard dress code. Furthermore, look into what part of India you are traveling to, this will also help you fill your suitcase with necessary items. For example a packing list for North India might need to contain certain items that you wouldn't need in the south of the country. Besides culturally acceptable clothing, you never know if there is a storm expected the week you will be there, so always go online to check a travel to India advisory that can keep you up to date with weather conditions or situations happening in the area you are headed to.
Conclusion
Traveling to a new country and culture is always exciting and an incredible experience. Make sure you are prepared by utilizing apps and online research to help you find tips and information easily and allow you to be organized before you go so you can spend the time you are there exploring without worry. With apps to help you know where to go and how to get there, tools to keep you safe and covered, and allow you to fit in and where the correct clothing, your first time to India should be fun and nothing short of memorable.
Image Credit:– "India Gate front" by electro_n1k is licensed under CC BY 2.0.
Image Reference: https://www.flickr.com/photos/electro_n1k/25624010934/
Recent Posts

Emgee Greens society has 131 families.

Maharashtra government announced a 15-day curfew.

An aeroplane restaurant was opened in Bhubaneswar, Odisha.
What's new at WeRIndia.com